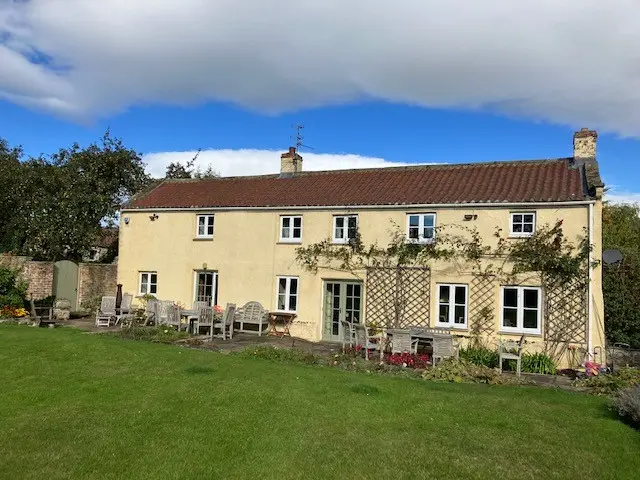 Rural North Yorkshire Cottage
In the pretty North Yorkshire village of Mickley, situated just to the east of Nidderdale Area of Outstanding Natural Beauty and on the River Ure, several property owners have decarbonised their homes through installing a heat pump, alongside solar PV arrays to become more sustainable and generate more renewable energy. One homeowner, Dr Roger Higson, in this small community of sustainability conscious individuals, has joined his fellow neighbours and retrofitted his home with a heat pump and solar PV to reflect the forward-thinking direction our nation is taking to decarbonise and set a precedent for those looking to adopt low-carbon heating.
Dr Higson's rural, solid-stone-wall, 1880's cottage, that previously relied on carbon-intensive oil for heating and hot water, has seen several period-matching extensions made over the years, and currently sleeps 6 – proving a unique and challenging retrofit for any customer or installer. Dr Higson believes the value of such a retrofit not only lies in contributing to the decarbonisation of the UK's housing stock but in saving on the cost energy bills, as the 3-4 times greater efficiency heat pumps achieve above gas or oil heating will be enhanced by more energy efficient properties.
The Solution
As the property had abundant surrounding land, to maximise the efficiency of the new heating system, and to be able to cover the heat demands of the sizable property, two NIBE S1155-12kW GSHPs were chosen – installed by Warmaway. In series, these heat pumps will afford ample heat generation capacity, whilst maximising their efficiencies. To further increase the system's efficient running, a 300 litre Megacoil hot water cylinder was installed alongside a 300 litre NIBE UKV buffer vessel, which balances the properties space and hot water demands with the heat pump's operational efficiency all year round.
In addition to the new heating system, Dr Higson opted to install a roof-mounted solar PV array; an ideal system that works in tandem with the heat pump to reduce the cost of energy bills through on-site renewable energy production. Furthermore, during periods of low household demand and abundant solar energy, this surplus electricity can be sold back to the grid and recover funds used for the heating system throughout the year.
The Results
The duel, efficient S-series GSHPs have achieved a Seasonal Performance Factor (SPF) of 3.4 and combined with £35,000 of funding claimed through the Domestic Renewable Heat Incentive, will likely provide a more cost-effective means to heating the property and producing hot water.
About the installer
Warmaway offer specialised central heating services across Yorkshire with 20 years of experience in the heat pump industry, as well as the provision of solar power as another renewable heating alternative. Their extensive industry expertise provides quality services in the installation and repair of a range of heating systems.