The heating industry is at a crossroads with a period of exciting policy led growth for heat pumps on the horizon. However, with the recent Progress Report from the Climate Change Committee urging imminent action and faster delivery to reach required heat pump targets, policy framework will still need adapting to increase uptake.
The Clean Heat Market Mechanism (CHMM) aims to incentivise 90,000 heat pump installations in year 2 alone, with the possibility of 400,000 by 2028. Whilst these targets are ambitious, the industry has potential for scalability. On the continent, Germany is requiring almost all newly installed heating systems to be 65% renewable energy. This coupled with a rebate scheme for consumers for the cost of buying and installing a heat pump has accelerated uptake. Heat pump sales have ramped up 122% over a year (Q1 2022 to Q1 2023) and over 100,000 new systems were sold in Germany in Q1 alone.
The UK is also no stranger to fast paced change, with the introduction of the condensing boiler a great example of this. Despite industry reluctance, policy provided a clear, much needed kickstart for the industry to embrace a new, more efficient technology. The industry ramped up installations, adapting with only two years notice (1) - a similar time frame for the CHMM announcement, demonstrating that change within this timeframe is possible.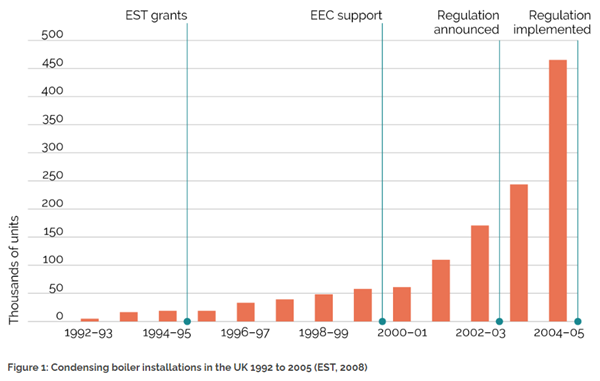 The CHMM also has huge potential to drive growth of the industry, but other policies must work in tandem with the scheme to maximise progress. The main focus must be on incentivising consumer demand and increasing installer numbers. Confirmed phase out dates for fossil fuel boilers, alongside greater financial support through the Boiler Upgrade Scheme (BUS) can support this.
Year one of the BUS had a shaky start with over 56% of available funding unused(2). For the remainder of the scheme, which has been extended to 2028, the grant can be increased to incentivise greater uptake, particularly for ground source heat pumps, which have considerably lower uptake than under the Domestic Renewable Heat Incentive. The role of other policy schemes, such as the Social Housing Decarbonisation Fund (SHDF) and Homes Upgrade Grant (HUG) can also be reviewed to further drive progress towards the 600,000 target. These schemes do not fully take advantage of the benefits of heat pump systems. For instance, heat pumps make up only 2% of the measures installed under SHDF(3) and only 10% of all measures installed under HUG(4) based on the latest statistical release.
Installers are at the heart of supporting the growing industry, and there are currently large skill gaps leading to poor installs and lacklustre performance. Many often comment on minimal training capacity, how available training is not currently up to standard, and the bureaucracy with becoming MCS accredited. The route to becoming an MCS accredited installer will be addressed through the MCS Scheme Redevelopment Consultation, and this will be crucial to driving installer uptake. Additionally, for those looking for an easier route to MCS today, the NIBE Pro partnership scheme streamlines the route to MCS accreditation, removing bureaucracy, whilst rewarding installers.
Whilst high-quality, tailored installations are key to an efficient heat pump system, running costs can be artificially inflated due to high electricity costs, reducing the incentive to install a system. More detail on plans to rebalance energy levies this year will be crucial for lowering heat pump costs and driving consumer demand. Rebalancing energy levies can lower the cost of running an air source heat pump relative to a gas boiler by £250 lower per annum.
Industry and policymakers still have work to do. We are less than 5 years away from the 2028 target of 600,000 annual heat pump installations, and UK sales in 2022 were just over 10% of this. So, despite there being potential boom on the horizon for the industry from the CHMM, installers and consumers must be supported through policy to deliver the supply chain and demand required to reach decarbonisation targets.
(1) Creds (2020) The story of condensing boiler market transformation – a briefing note for BEIS. Available here.
(2) DESNZ (2023) Boiler Upgrade Statistics. March 2023. Available here.
(3) DESNZ (2023) Social Housing Decarbonisation Fund statistics: June 2023. Available here.
(4) DESNZ (2023) Green Homes Grant Local Authority Delivery (LAD) and Home Upgrade Grant (HUG) release, June 2023. Available here.
You must be logged in to submit comments.
Comments are closed for this article