Energy prices are dominating the news and rightly so as households are expecting to see a significant increase in the cost of home heating over the winter months. Ofgem has announced rises which amount to an over 80% increase on an annual dual fuel bill, up to £3,549. This increase means that your customers are likely to be looking at ways to reduce the cost of heating their homes.
We all know that reducing energy demand is essential and that insulation and energy saving measures should be considered as part of any retrofit project. However, the price rises mean that heat pumps also offer a energy saving potential. We estimate that, based on the October price cap, the average annual heating fuel bill will be comparable for natural gas boilers and heat pumps at around a Coefficient of Performance (COP) of 2.85. As shown in the graph below, a heat pump performing at above this rate will deliver further cost savings for consumers and the savings could be huge. This is a really strong selling point for heat pumps and is definitely something we should be shouting about. The savings that can be achieved will vary by property type and heating system so we recommend that you consider the impact the price cap will have on each client individually.
We want to do our bit to help our customers save money and are always looking for ways to make our products more efficient and provide customers with greater control over their heating. There are also government support programmes available to help households access low carbon heating including the Boiler Upgrade Scheme. The Government has recently published figures which demonstrate the popularity of the scheme. The Energy Company Obligation also enables vulnerable and low income households access energy efficiency measures. If you would like more information about these schemes visit our website.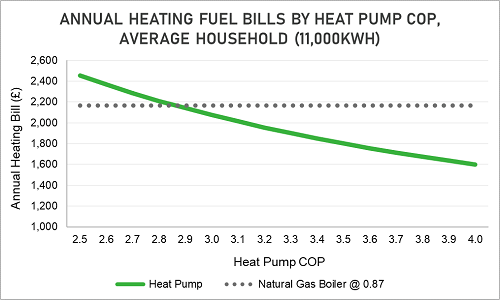 Data and assumptions
• Efficiency data for heat pumps and natural gas boilers are sourced from the CCC.
• Pricing data for both the April and October price caps is sourced directly from Ofgem.
• Households which heat using natural gas boilers are assumed to still pay the electricity standing charge, given that they will need to for standard household appliances.
You must be logged in to submit comments.
Comments are closed for this article