Do you often still see boiler controls left at their maximum by the commissioning engineer or turned up by the customer after you leave? Whilst consumers may see piping hot radiators as a sign that the heating system is working well, customers could be wasting money and unnecessarily increasing flow temperatures above what is needed.

With the current energy crisis, one key money-saving piece of advice for consumers is to start lowering their boiler flow temperatures. This may feel counter-intuitive for many, but it really does work.
Given the vast majority of condensing boilers installed in UK homes are combination boilers selected based on hot water flow rates, these are often significantly oversized for the central heating demand. Also, if radiators are hot this gives the customer some peace-of-mind as it is perhaps more apparent that everything is working as it should be. However, this means the boiler is often left at or near its maximum temperature.
Engineers however, armed with the right knowledge and skills, can support customers to cut costs by discussing the benefits and practicalities of operating at lower flow temperatures. It is worth noting that condensing combi boilers typically have two temperature settings (one for the central heating and the other for domestic hot water). The central heating flow setting can therefore be reduced to 50°C or lower, without affecting hot water comfort or increasing the risk of legionella, cutting gas bills by 6-8%i. This is also a simple and effective method for determining whether a property and heating system is suitable for a heat pump.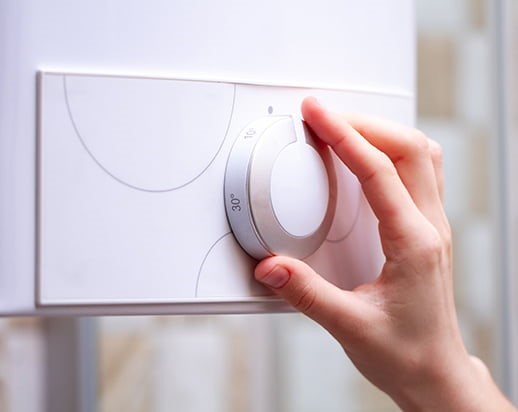 Lower flow temperatures can also slow damage to the heating system. This is because higher flow temperatures speed up metal corrosion, which generally doubles for every 10°C increase, damaging pumps and valves. Further to this, by running a boiler system at a lower flow temperature, there will be less system water expansion into the expansion vessel, meaning a slower depletion of the internal rubber membrane and a longer-lasting system. Other improvements include a reduction in levels of noise/creaking in heating system.

In contrast to the boiler market, the heat pump industry has been advocating for the installation of low flow temperature systems for some time now, ensuring customers can maximise the efficiency gains and cost savings from their heat pump installations.
It's not just us saying this, new government regulation advocates for lower boiler temperatures. The Future Homes Standard (England) aims to deliver heat pump ready energy efficient new build homes by 2025. Underpinning this is the Part L Building Regulations, which have been effective from June 2022, and are the starting gun for decarbonising new build housing.
We have also seen Wales and Scotland enter the race with uplifts to their own building regulations. These regulations are driving low flow temperature prominence, stating that newly installed or fully replaced heating systems must operate at a maximum flow temp of 55°C or lower, and room by room heat loss calculations must be used when sizing space heating systems to ensure heating systems are not significantly oversized.
Despite this progress, quality and relevant training for future proofing installers to meet these regulatory requirements is lacking, particularly for low flow temperature systems. To date, training courses for heat pumps have been disjointed, convoluted, and out of touch with the realities of installing a heat pump– which often require a high application of knowledge and skill with each install being unique. NIBE recognise this, and that's why there is opportunity through our leading NIBE Pro installer course for installers to attend the LCL Awards and Chartered Institute Plumbing Heating Engineers Low Temperature Heating and Hot Water in Dwellings Course.
The course provides comprehensive training on the latest industry standards and regulatory frameworks relating to heating design. It also covers requirements for room-by-room heat loss calculations as well as correctly sizing heat emitters, pumps, pipework, and domestic hot water systems. So, you can be sure you're offering your customers the optimal solution for their home.
The course is suitable for both fossil fuel and low carbon heating engineers and will help you upgrade systems in readiness for a future heat pump install or even better give you the skills to move onto a heat pump course.
Lower is definitely better when it comes to flow temperatures, so next time you're called out to maintain a combi boiler, consider flow temperatures, as you could save your customers money, whilst ensuring their system is heat pump ready. All in all, there has never been a better time to start your heat pump journey with NIBE's comprehensive training and installer support.
You must be logged in to submit comments.
Comments are closed for this article