Written by Jonathan Hancock, Product Manager at NIBE Energy Systems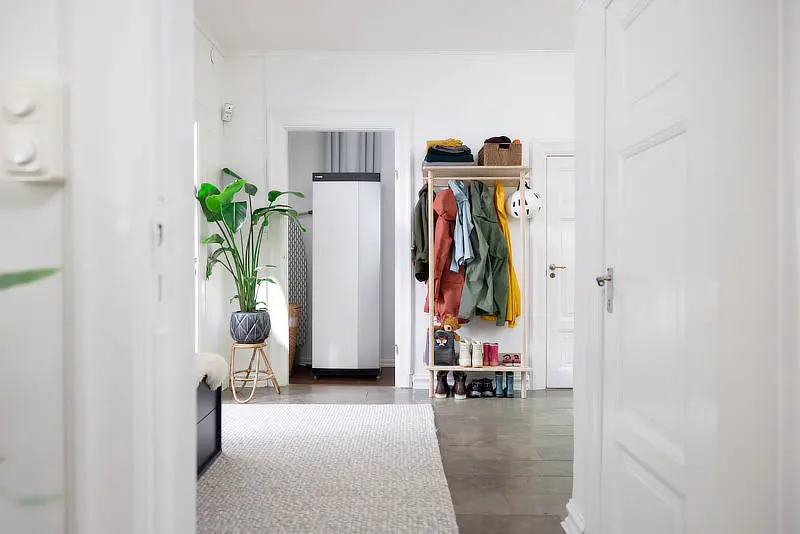 The future of heating in off gas grid homes
There are over 1 million off gas grid fossil fuel heated homes in England*. These homes use some of the highest carbon heating fuels including oil and coal. The Government aims to phase out off gas grid fossil fuel heating from 2026, meaning if you are not yet offering your customers appropriate low carbon options, your time is running out. At NIBE, we believe GSHPs are a strong option for off grid homes, and a fantastic opportunity for installers looking to diversify their offering.
Heat pumps are the preferred low carbon heat option for off grid homes
Despite common misconceptions, a recent government study found that there is no property type or architectural era that is unsuitable for a heat pump*. Older, rural properties can be effectively heated by heat pumps and whilst challenges may exist in some homes, these are all manageable with careful consideration.
Heat pump systems are beginning to draw attention across the UK as we seek innovative ways to meet our net zero targets. Not only is the government considering policy mechanisms to phase out high carbon fuels, but consumer interest in low carbon heating systems is also increasing. The Government's public attitudes tracker has seen a rise in awareness around climate change, and a greater willingness to help tackle it*. The Boiler Upgrade Scheme (BUS), which gives a £6,000 grant for Ground Source Heat Pumps (GSHP), is experiencing higher engagement from off gas grid homes than the UK average. 25% of the ground source heat pumps being installed under the scheme are replacing oil boilers*.
Why GSHPs are an attractive option for consumers
GSHPs are attractive to off gas grid customers because they are more reliable than alternatives – they are unaffected by cold outdoor ambient air temperatures and so maintain efficiency regardless of outside conditions. This is because ground temperature stays consistent throughout the year at around 10°C. Additionally, heat pumps are immune to volatile oil prices, and so provide stable running costs for consumers. They also require less maintenance than comparable fossil fuel systems, saving call-out time for installers.
GSHPs are also incredibly versatile, taking heat from multiple sources, including the ground, lakes and mineshafts. NIBE's GSHP range can also be connected to solar PV-T panels for even higher energy efficiency. For ease of installation, GSHPs have more flexible siting options compared to oil tanks as there is no requirement to ensure safe termination of flue gases.
Households adopting GSHPs benefit from longer lifespans of over 20 years compared to other heating solutions, with boreholes remaining efficient for well over 50 years. In addition, the cost of retrofitting a GSHP at the end of its life is comparable to other heating systems. Running costs are significantly lower with GSHPs too. Green levies have been removed from electricity bills and will be further reduced through the Government's ambition to rebalance electricity prices to incentivise the electrification of heat. This will further increase demand for GSHP installations as customers will experience even greater energy savings.
Consumers are increasingly looking for ways to manage their heating systems more efficiently to save them money, and so NIBE's GSHPs provide performance information to consumer's smart devices* for more effective heating system management. On the other hand, for the installer, the commissioning process for a heat pump can require frequent adaptations to ensure the install is set up correctly. Constant on-site visits are often not practical for installers and increase costs. That's why NIBE has created a GSHP range, where installers can remotely monitor and troubleshoot performance through the MyUplink pro app. Additionally, to overcome cylinder placement issues, the NIBE S1255 GSHPs comes with a built-in hot water cylinder to deliver a more compact installation.
It's important to start your journey early
Oil installers wishing to diversify into heat pump technology before the fossil fuel heating phase out date will also be at a stronger position to take advantage of subsidies and incentives aimed at deploying the technology at scale. The benefits of retraining early don't stop there. With a small majority of oil engineers still taking their first steps in the UK heat pump industry, installers retraining now benefit from a larger market share, with greater demand from consumers.
If you are yet to begin your journey to becoming a heat pump installer, you'll be pleased to hear that the government has recently announced the Heat Training Grant, providing installers with £500 incentives to subsidise the cost of heat pump installer training*. NIBE already offers the level 3 training courses eligible for these incentives, and so now is a perfect time to diversify into low carbon heating.
Our NIBE Pro scheme is a perfect example of the industry supporting upskilling, with training costs fully redeemable against product purchases through our voucher scheme. The scheme also provides industry leading training and support, and we are confident that its competitive price point will be further bolstered by the newly announced £5 million Heat Training Grant to those wanting to train to install our heat pumps.
You must be logged in to submit comments.
Comments are closed for this article