There isn't a conversation about energy at the moment that doesn't touch upon the recent and forecasted energy cost increases. Ofgem's new energy price cap has certainly been a hot topic recently, it being a move that has lasting consequences for approximately 22 million customers across the UK. Both gas and electric driven systems have been affected, with running costs and energy bills rising for all homeowners.

However, it is undoubtedly the unprecedented increase in global gas prices, due in part to Russia's invasion of Ukraine, that has contributed most heavily to this crisis. To our calculations, the price cap for gas has risen by around 80% since April 2021 including standing charges. Clearly this isn't the price rise for all; some householders are seeing higher increases, but it does demonstrate the impact of the change particularly for those using gas.
Now more than ever, we can see what the future could hold in store for a society dependent on fossil fuels – limited supply due to a phasing out of carbon intensive fuels and potentially hiked up costs. Homeowners are aware that maximising the energy efficiency of their properties is the best way to reduce the impact of higher bills. However, we need to emphasise that heat pumps are a viable alternative to gas boilers and could in fact lower energy bills today. The demand for energy efficient measures including heat pumps and cavity wall insulation saw a 20% spike ahead of the increase in energy bills, according to data from Rated People. The Renewable Heat Incentive also saw a surge in applications before it closed in March.
Indeed, the new price caps tell us much about both the comparable performance of fossil fuel and low carbon systems and the resulting running cost to provide 1kWh of heat. A heat pump system operating at a 350% efficiency will have a running cost comparable to a gas boiler operating very efficiently at 90%, at 8.18p/kWh of heat delivered. It is worth noting that many incumbent gas boilers are likely to have a lower efficiency rating, suggesting the potential for heat pumps to become even cheaper as time progresses.
The potential for heat pumps to provide cleaner, cheaper energy in the years to come is even more interesting when we consider the effect of environmental levies. We know the government is considering a consultation on rebalancing these which will further increase the attractiveness of heat pumps vs gas boilers. Moreover, if the heat pump installed is smart and can use energy when it is cheapest then costs can be reduced even more! Our NIBE S-Series heat pumps allow customers to control their heating from a smart phone, access real time data and optimise settings to provide improved comfort and lower bills.
It is clear, therefore, that the main way that we can prevent an escalating cost of living crisis and high levels of fuel poverty is to focus on the potential of such low carbon solutions. It is promising to see that the Government is set to increase its current support for heat pumps in particular; the Queen's speech, for instance, set out legislative aims to extend the price cap and encourage innovation across sector through the Energy Security Bill. The Boiler Upgrade Scheme (BUS) has also just opened for applications, providing monetary support for homeowners looking to move away from fossil fuel heating. Within the first day, hundreds of applications had been made to the scheme demonstrating high demand.
If you don't yet offer your customers heat pumps as a solution, but would like to know more about them and the benefits of a low carbon proposition, visit our website to find out about our NIBE Pro Installer Partner Programme, which is designed to guide and assist you and your team towards making this change. NIBE Pro Installers - NIBE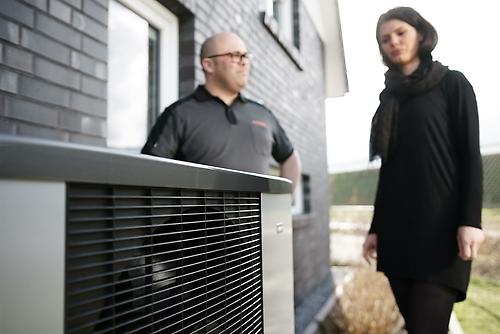 You must be logged in to submit comments.
Comments are closed for this article