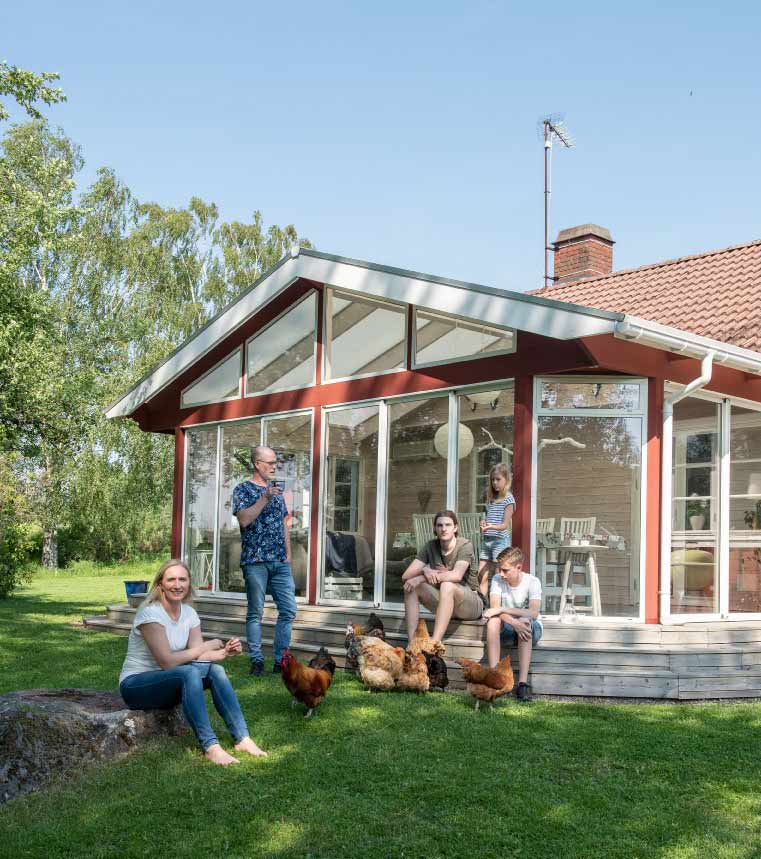 Åsa and Matthias lives with their three kids surrounded by green pastures and wonderful nature. Fifteen years after they moved into their 70's house they've taken the step up to NIBE's top series. The new ground heat pump NIBE S1255. An innovation that harnesses the forces of nature and creates a perfect indoor climate.
For about a year the family has been acting as test pilots for NIBE's newly developed and connected S series with the ground heat pump NIBE S1255-12.

"It is an incredibly quiet machine beyond it being very energy efficient. Our previous heat pump was noisy pretty much all the time. But the new one is so quiet you can't even hear it during a cold and windy winters day when the system is giving full power. The heat pump is also connected now, which makes it much easier to operate. It feels smarter in every way." Matthias tells us.
Soon Åsa and Matthias are planning to add two other functions that will increase their energy efficiency and comfort even further, NIBE's "weather control" and "Smart Price Adaption". Something that's easily achieved with the heat pump's wifi connection and built-in functions.
"These are new smart functions that improves our indoor climate as well as our energy efficiency. The smart heat pump is more proactive if it KNOWS when a change in weather is coming and has a chance to prepare for it. By also installing a "rumsgivare" my system has become even smarter and can handle change in weather, windy days and the thermic inertia of the house even more efficiently. It is also smarter to stock up on heat when the electricity is cheaper, with Smart Price Adaption. Both of these functions is something I thought was sci fi just a couple of years ago." Matthias says.