"You have to be a bit crazy to rebuild a water tower!"
We at NIBE are pleased that Henry Tervahauta and Pari Aria chose our largest S series home heat pump when they built their dream home – an exciting transformation, to say the least, which many people were able to follow on Grand Designs Sweden on TV4. "Anything's possible, and masterpieces take a little longer," says Henry Tervahauta with a big smile.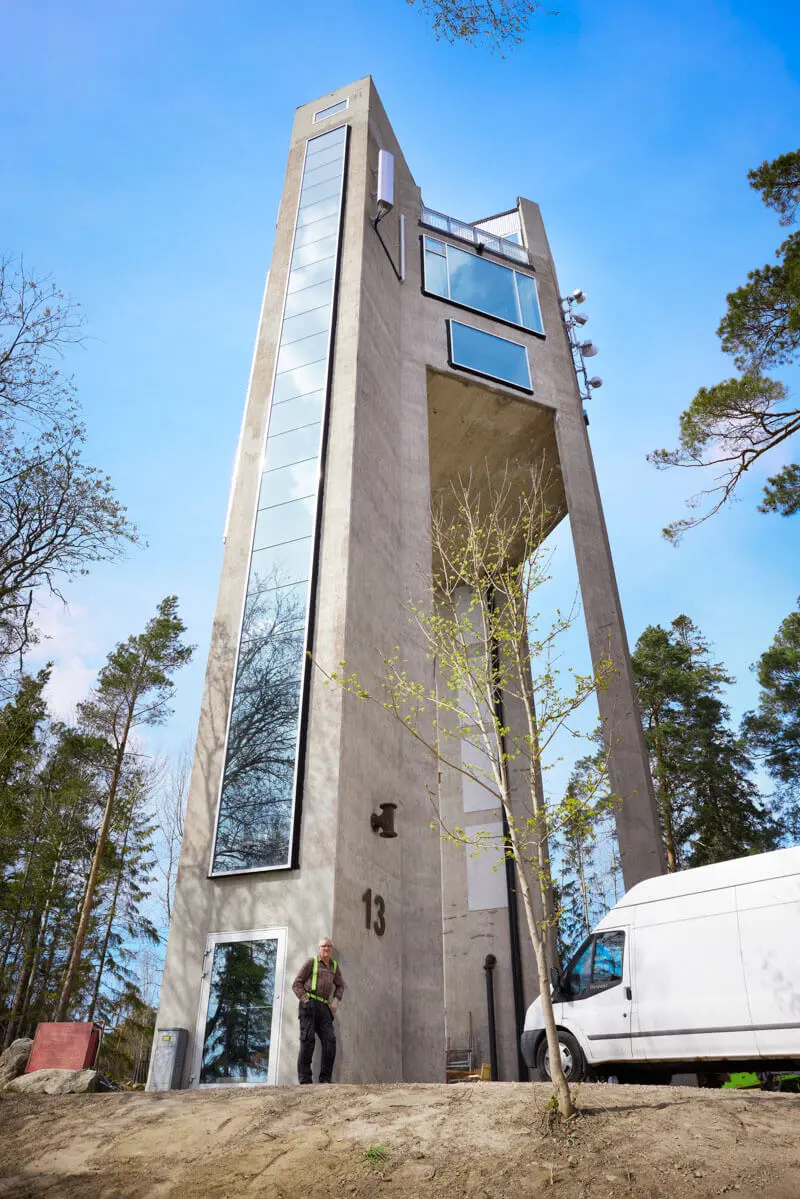 Our largest home heat pump, the NIBE S1155-25, will heat and cool Henry and Pari's new home as well as another flat, a total of 350 m2.
Henry would never build a standard pitched roof house. He describes himself as a retired industrialist and entrepreneur who loves challenges. To illustrate this, he shows us a newspaper article from the 1980s, when he introduced aluminium windows and insulating glass production in China. He shares these qualities with his wife Pari. "We wanted to build something all our own, and we were looking at plots of land," says Henry. So we went onto Hemnet and saw that there was a water tower for sale in Knivsta. We saw the potential and got excited. They paid SEK 1 million for the 24 metre high water tower from 1958, including 700 m2 of land, in the middle of the oldest neighbourhood in Knivsta. "There's a fantastic view, you can see all the way to Arlanda," Henry continues, looking out into the distance.
"Anything's possible!"
The project started five years ago with the planning permit process and architectural drawings. The idea was to retain the industrial character of the exterior, apart from the windows.
–We wanted to build a three-storey dwelling for ourselves and prepare for another four floor home underneath it.
The concrete facade was cleaned of graffiti and red algae with a 340 bar hot water pressure washer and then impregnated with a silicate product. Holes for panoramic windows were cut into the 60 cm thick concrete walls with a diamond saw and 200 tonnes of concrete were removed. A completely new storey was built on the top. Four large glass sections, 4 metres wide and 3 metres high, weighing 1 tonne each, were raised and assembled using a self-designed winch assembly.
–I put safety first and stayed in control all the time. It probably looked worse than it was, says Henry, who remained optimistic throughout.
Henry himself project managed the work, made all purchases and participated actively in the construction.
–I have construction industry knowledge. It's been a full-time job, but anything's possible, and masterpieces take a little longer, as I usually say.
Largest home heat pump
When it was time to choose an energy solution, Henry contacted NIBE.
–At first, Henry had his eye on our F750 exhaust air heat pump," says Richard Carlholmer, product area manager for exhaust airheat pumps. But once I realised the extent of the home, I got him to understand that nothing other than ground-source heating would do.Instead, I suggested an S1155-25, a really big heat pump for a relatively 'small' living area of about 170 m2. But Henry told us that there would be another flat, about the same size. And then with a bit of a margin to what might be needed, an S1155-25 seemed like the clear choice.
–I'm very satisfied with the NIBE products we chose, and with the advice and support I received from Richard Carlholmer," Henry says. "It was very professional and I was treated well.
The heat pump is now located on the first floor, 17 metres up in the tower, and the solar cells, which will generate a significant part of the energy required, are installed on the south facade. There is underfloor heating on every floor. Two boreholes at a total of 500 metres were drilled for the ground-source heating. Passive cooling has also been activated to provide pleasant, affordable cooling when the summer sun is shining through the large glass sections.
–We've just got the system up and running, basically everything's ready," Henry explains. We've connected all the distribution boxes, water, the heat pump and we've drawn pipes the whole way up. And now I'm going to connect it to the myUplink app!"
A home at last
Henry and Pari's bedroom is on the top floor, with balconies facing three different directions. The middle floor consists of an open plan kitchen and living room with two kitchen islands in the middle. On the bottom floor there is a relaxation area with a bathroom, sauna and laundry room. With woodwork in oak, warm hues on the concrete walls and the interior design in place, it feels like a home at last.
–In order to retain some of the industrial feel, we have a diamond-polished concrete floor in the kitchen and living room, and the tabletop is also in polished concrete.
There are many fire and other safety regulations to comply with, and it will soon be time for an inspection.
–We've installed a dry riser pipe that will push water up to fire hydrants on several floors and we'll be installing extra evacuation doors and smoke screens on the evacuation staircase, which we need to have in place before the inspection after Easter. Then we can move in!
It's been a long, exciting journey for Henry and Pari. They hope to be able to move in at the beginning of May.
–It feels fantastic! We've revamped the water tower into a modern home, says a proud and happy Henry.
Want to watch the programme? It's on TV4, Grand Designs Sweden, season 2, episode 6.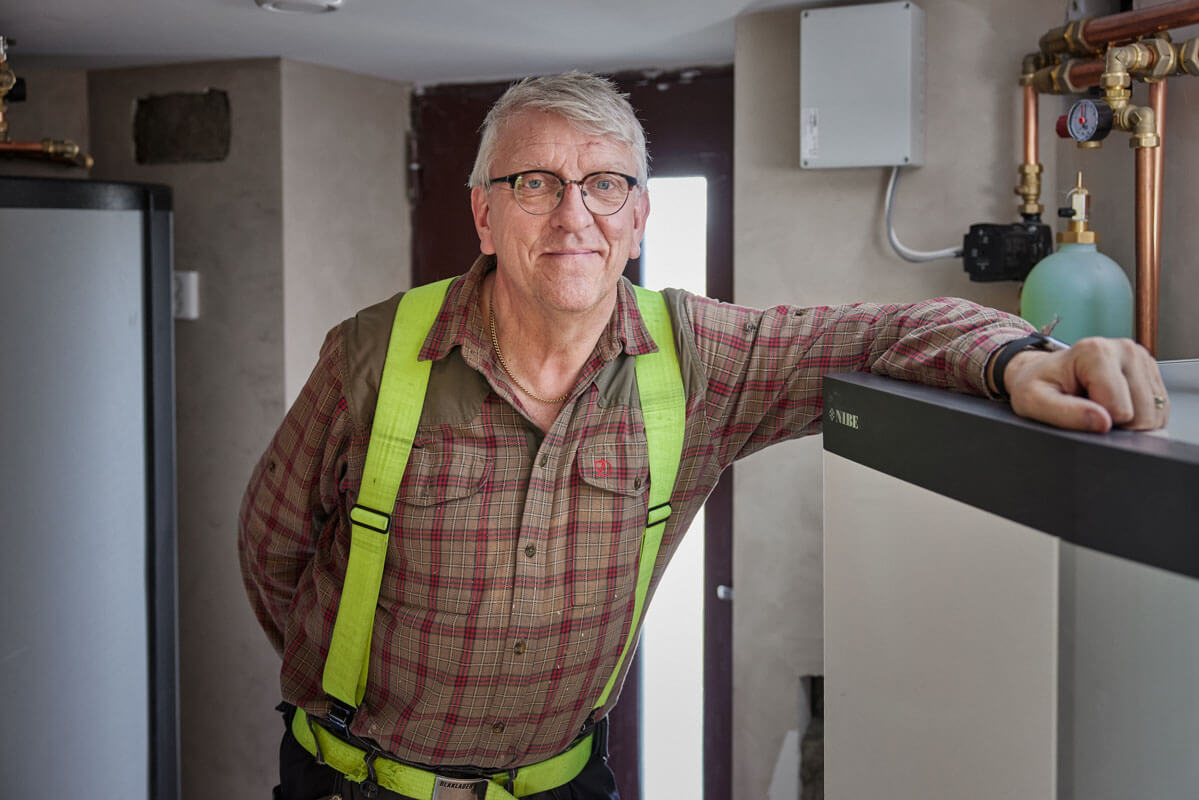 Henry Tervahauta leaning against our largest home heat pump in the S series, NIBE S1155-25.
The view is fantastic from the 24 m high water tower and you can see all the way to Arlanda Airport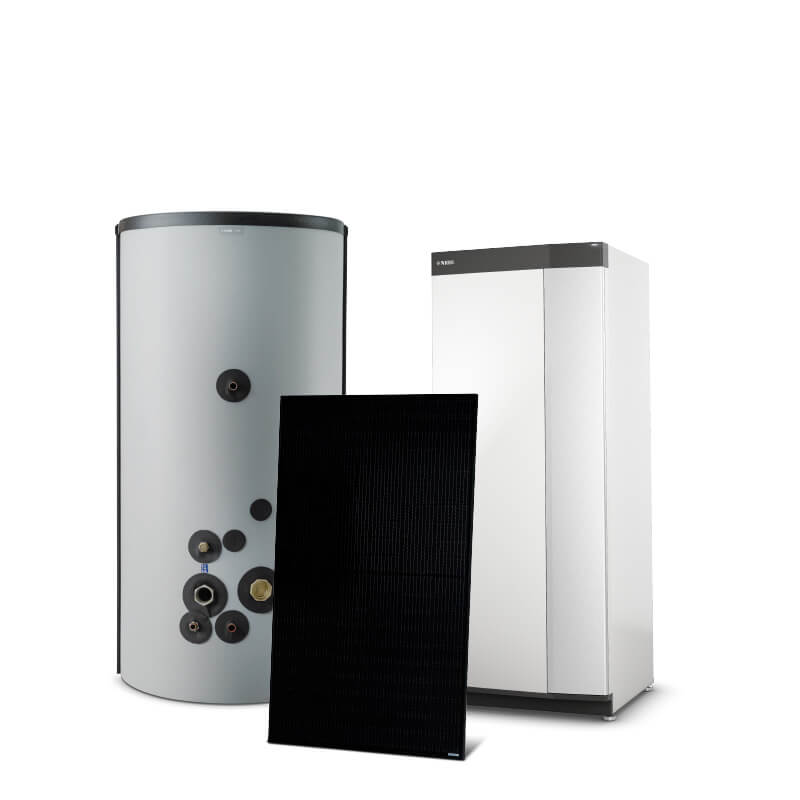 SYSTEM SOLUTION
NIBE S1155-25
NIBE PV
VPB 500