The Skye Window House, Inner Herbrides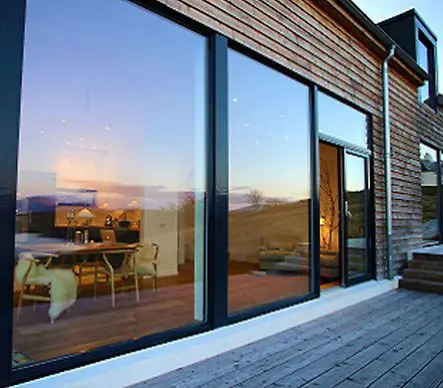 The background
Built in a secluded setting on the Isle of Skye, the Skye Window House is a luxury holiday home boasting floor-to-ceiling windows and impressive coastal views – but its rugged location also means it is subject to some of the UK's most severe climates. When researching an off-grid heating system for the three-bed, two-bath property, the challenge for owner Torsten Mansson was finding a solution that would ensure a comfortable indoor environment and reliable hot water, whatever the outside temperature. After extensive research into renewable heating technologies, Torsten was keen to opt for a NIBE heat pump system, and approached local specialist and NIBE VIP installer Lochaber Renewables for advice.
Solution
Graham Moss, director at Lochaber Renewables, met with Torsten to discuss the unique requirements of the project, and went on to specify, design and fit a NIBE F1245 ground source heat pump (GSHP) and exhaust air package. This is made up of an 8kW GSHP, an indoor unit complete with integrated 180L hot water storage cylinder and built-in controls, a 100L buffer tank and a NIBE FLM exhaust air module. As well as harnessing renewable heat from a 150m external borehole to provide reliable space heating and hot water throughout the year, thanks to the NIBE FLM module the system also uses heat recovery and air recycling to ensure temperature-controlled ventilation.
Results
The new NIBE GSHP system is now fully up and running and is providing efficient, readily available and cost-effective hot water and heating for the Skye Window House and its guests. It is equipped for use with NIBE Uplink – an online monitoring and control programme that will allow both Torsten and Graham remote access to the system via a secure login. The installation is also eligible for the Renewable Heat Incentive (RHI) scheme, which means it can generate ongoing payments for the heat the GSHP produces.
Customer testimonial
"Before the installation, I'd done a lot research into renewable heating technologies and providers – and it was NIBE's expertise and track record in the industry that really stood out. I'm half Swedish, so I knew the company has a long heritage of products that stand up to extreme conditions, and that's exactly what we need in a place where the outside temperature can fluctuate between bitterly cold and very warm. With ventilation in mind, I'd originally been interested in a standalone exhaust air heat pump, so I was also very pleased when Graham advised that we go for the integrated ground source / exhaust air setup.
"Overall, we are finding the system very responsive and easy to use. I simply set the desired temperature and leave it to its own devices, and it helps create a cosy, luxury feel in the house. I have no worries about guests using it either, as the controls are so intuitive (as straightforward as using an iPhone). From a logistical point of view, the system is far lower maintenance and cost-effective to run than other off-grid alternatives, like oil."
Torsten Mansson