The Gullmar fjord lends energy to the energy pioneer Vann Hotel and Spa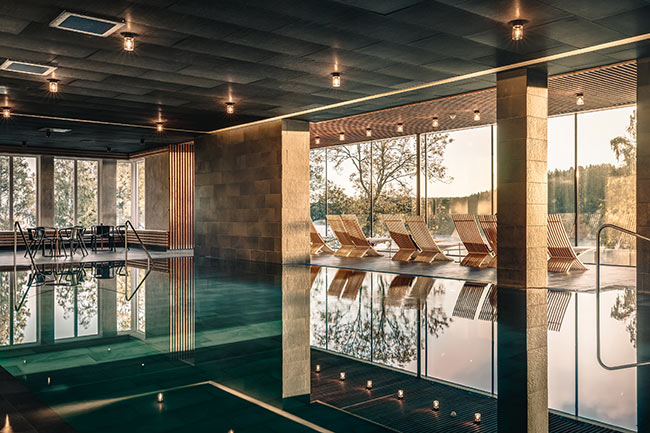 Its beauty makes you tear up. Bohuslän's Gullmar fjord is home to one of the ideally located hotels, spas and conference facilities in Sweden. And behind the beautiful surface, created by architect Gert Wingårdh, is an energy solution worthy of the moniker pioneer. In the last ten years, the new owner, Aspelin Ramm, has halved the energy consumption per hotel guest, while more people flock to the growing hotel spa.
"As owners, we constantly strive to reduce the amount of purchased energy to operate the facilities. Our long-term environmental thinking is spurred by reaching the maximum amount of locally produced energy to meet and exceed all environmental requirements. Aided by the water of the Gullmar fjord and NIBE's excellent ground-source heat pumps, we have managed to tweak our facilities to a fantastic degree," says Roger Larsson, property manager of Aspelin Ramm who has owned the facilities since 2008.
Energy ambitions were high as far back as the inauguration of the hotel and conference facilities back in 1984. At the time, it was owned by the Metall trade union. Metall built a Swedish energy pioneer that focused on sustainable energy supply. It was on the cutting edge in 1984 to capture the energy of the Gullmar fjord water with heat pumps and to save energy with exhaust air recycling. At the time, it was a very advanced and complicated facility that provided its guests with hot water, heating and a heated pool.
"Metall was ahead of its time when it invested in renewable energy sources in 1984. Step by step, we have further developed it over the years. But the greatest developmental stride was made 10 years ago when our new owner made substantial investments in renovating and developing the hotel, says Vann's property manager Richard Skansberg, whose father owned the facility until 2008.
Halved energy consumption per guest
Thirty-five years after inauguration, the hotel has a fully developed spa with eight indoor and outdoor heated pools. And it is a substantially energy-tweaked facility that, in 2016 and 2018, was equipped with a battery of ground-source heat pumps from NIBE, namely, six NIBE F1345. In 2019, another two NIBE pumps will be installed. This is a result of the latest project to gain more energy efficiency at Vann Hotel and Spa.
"In 2016, we did an energy analysis and reviewed how the system was built up. The result ended up being new ventilation units, new ground-source heat pumps, new control and monitoring systems and a decision to implement the largest (1,200 square metres) solar panel facility in Bohuslän. With this investment, we have reached a new level on the cutting edge of energy efficiency," Richard Skansberg tells us.
And the figures say it all. Previously on a level of 85 kilowatts per overnight guest and day, the current consumption is 43 kilowatt hours. In other words, a reduction by half!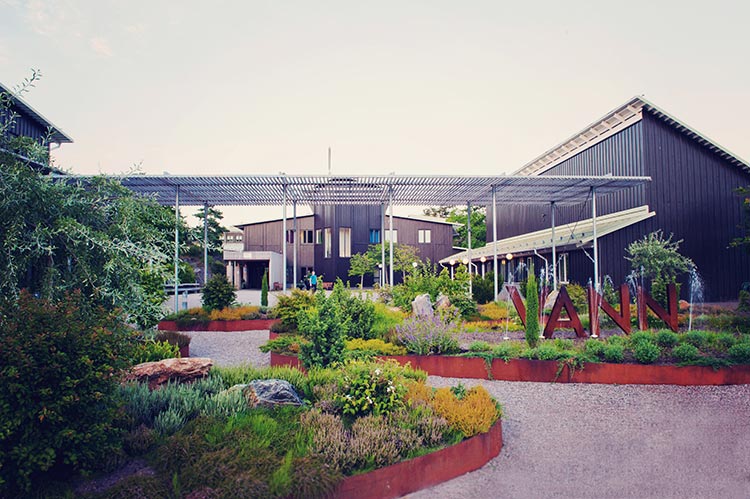 Energy comes from the fjord
In contrast to traditional ground source heating, Vann Hotel and Spa does not get its energy from bore holes, but from the beautiful water of the Gullmar fjord. Two 100-metre long pipes pump water from the bay to the engine house by the pier. There, the energy is transformed to brine via a heat exchanger. From there, the energy is pumped up to the large RTU under the hotel in which a total of eight ground source heat pumps transform the energy into heating and cooling for the 17,000 square metre facility. There are many advantages to extracting energy from the fjord, one of which is that the hotel did not need to drill an excess of 50 bore holes to reach the geoenergy. Honoured with assembling all the new technology in 2016 was NIBE installer Jonas Gustavsson.
"It has really been an adventure, and I'll admit that my head was sure spinning the first time I stepped into the old equipment room. It was a particularly ambitious and substantial project, but also complicated and difficult to manage. By investing in an entire system solution and taking a holistic approach, we modernised the facility and considerably simplified operations. And NIBE's heat pumps have made significant contributions to the reduction of energy procurement, an effect that will be further enhanced by the two F1345s soon to be installed. The fact that I can monitor operations through NIBE Uplink gives highly valued security," says Jonas Gustafsson of Jonas Rör AB in Kungshamn.
Proud... but not done yet
With the 850,000 kilowatt hours they have saved per year, property owner Aspelin Ramm is proud of the "energy revolution" they have brought about in their hotel. But their ambitions do not stop there, Roger Larsson, property manager with Aspelin Ramm, tells us.
"We have brought consumption down to about 140 kilowatts of energy per square metre. Though this is a very low number for a large spa and conference facility, an excellent number in fact, our ambitions don't stop there. We are competing against ourselves to improve. Our next initiative is to have the property classed as a Green Building, all while our hotel continues to attract a greater number of guests to our conferences, spa and beautiful surroundings. And that's what we mean by sustainable growth," Roger Larsson concludes.
Vann Hotel and Spa
Activity hotel in the Gullmar fjord, holding the Nordic Swan Ecolabel. 17,500 square metres, 160 rooms, eight heated pools. 57,500 guests per year.
Owned by Aspelin Ramm, who also converted Smögens Hafvsbad, replaced oil with ground-source heating from NIBE.
In 2016, made profound energy efficiency improvements with ground source heat pumps from NIBE, six NIBE F1345, new ventilation and exhaust air recycling. ROI in approximately six years.
A high-voltage customer, they have reduced their electrical output requirements by 30 percent in 2016, from 700 to 500 kW.
NIBE's heat pumps are an integral part of the energy solution. In 2018, it was updated with 1,200 square metres of solar panels, which will provide 170,000 kilowatts per year.
The ground source heat pumps are online via Uplink.