Solar power from NIBE delivers energy to emergency housing and schools in refugee camps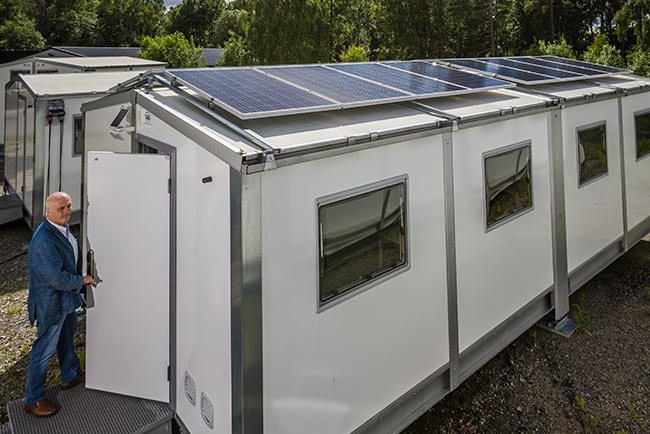 NIBE Energy Systems and the Swedish company CAS have partnered to provide a key piece of the puzzle in creating energy-independent modular housing. Simple homes that are quickly erected in refugee camps, emergency areas or remote locations and are powered solely by the sun's rays instead of expensive diesel. On the brink of being launched.
Close your eyes and imagine shabby tents or makeshift shelters built from all kinds of scrap. Imagine the families that live in them or women giving birth in them. Now imagine instead a modern, clean, spacious and bright dwelling of the highest standard, with pleasant indoor temperatures, running water and power sockets. The Swedish company CAS has developed quick-assembly modular housing like this and is starting to sell it on the international market. The concept has attracted considerable attention from the UN agencies UNHCR, WFP and other non governmental organisations (NGOs). There was just one problem left to solve. A fairly large problem at that. How could CAS create fully energy-independent modular housing that was self-sufficient in electricity production for lighting, computers, air conditioning etc. during the day and heating at night? The answer was found in the forests of Markaryd.
" We had previously tried mounting a solar panel on the roof of a modular building in Africa to power lamps and charge batteries. But we now wanted to find a completely non-diesel way of generating electricity. Diesel generators are very commonly used otherwise in the bush or outlying areas. We dreamt of finding such a solution and a solution turned up," says Bengt-Inge Brodén, CEO of CAS, Clean Analytical System.
The telephone rang In January 2017, Bengt-Inge received a call from NIBE Energy Systems. A promising call that quickly led to a fruitful meeting in Lundsbrunn.
"We were fascinated at NIBE by the entrepreneurs and their smart modular housing, but most of all by how much these buildings can help people in hardship and dire situations. It is a strong driving force to be part of a project to create self-sufficient housing that improves the lives of people caught in a crisis. Being the technicians and problem-solvers that we are, we quickly put together a package of solar panels, heat pumps and batteries that would provide a fantastic solution to the problem," says Richard Carlholmer at NIBE Energy Systems.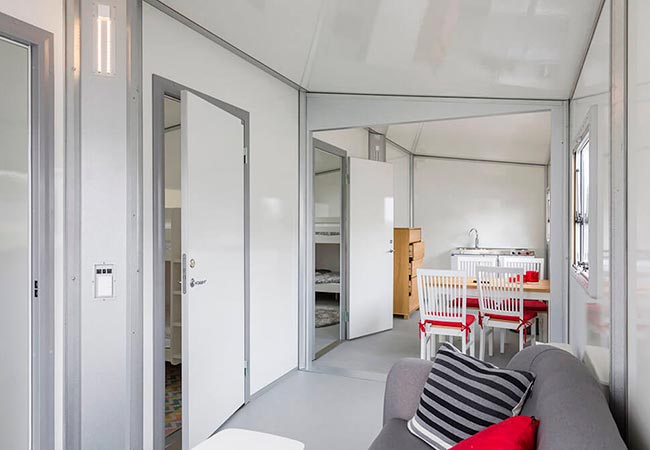 Modular housing making a difference
Using their experience gained from many years of working in
Dadab, the world's largest refugee camp, in Kenya, the entrepreneur Bengt-Inge Brodén and his colleagues decided to develop the ultimate modular building. The structure comprises 40% recycled plastic and is 100% recyclable. A basic modular home is 19.5 square metres in size and can be manually erected in a couple of hours. It is designed to stand for at least 25 years and can easily be enlarged to create schools, medical facilities, housing for refugees, army personnel or aid workers. It is people's eyes and their life stories that are the impetus for Bengt-Inge.
" Our homes improve the lives of people and, when you see in their eyes what happiness this brings, you never want to work with anything else, "Bengt-Inge says. He continues" Children can do their homework by lamplight, nursing staff can take care of patients, women don't have to give birth on bare ground and aid workers can enjoy good accommodation. This is what motivates us to keep up our efforts and to now develop this even further with NIBE at our side.
CAS and NIBE Energy Systems have together created a package solution to make each modular home self-sufficient in producing its own electricity. Eight solar panels mounted on the roof generate enough electricity each day to power an air-to-air heat pump, which mainly provides necessary cooling inside the homes on hot days
but also heats them via a hybrid inverter when temperatures drop at night. The addition of a battery pack, recessed in the structure of the building, enables surplus energy to be stored during daytime for use in the evenings and nights. The home no longer needs to have its electrical system connected to a diesel generator and huge savings can be made.
" Apart from the environmental aspect, diesel represents a major cost and a problem in large refugee camps and military bases. Obviously, it is tremendously important to reduce or eliminate dependence on diesel – if we are to take the environmental crisis seriously – and harvest energy from the sun instead," Bengt-Inge states.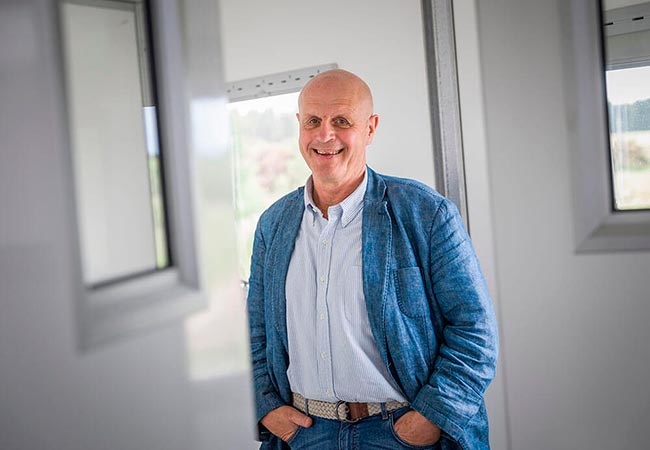 Fast-growing interest
CAS has a complete model on display at its facility in Lundsbrunn near Skara. A health care centre with 16 solar panels is attracting considerable interest among CAS's customers. For NIBE, this partnership is another example of how the company is contributing to a sustainable world in which renewable energy sources are increasing and will eventually make fossil fuels redundant.
"It feels good to know that NIBE's products are helping create
a better world for people, improving the quality of care facilities in troubled countries and creating self-sufficient buildings where patients can receive care in healthy and hygienic conditions. It's rather amazing when you think about it. Technology is so advanced that we can create self-sufficient buildings in the middle of nowhere", observes Richard Carlholmer of NIBE Energy Systems.
CAS is now ready for an expected breakthrough in the global market. Sadly, the need for emergency support remains acute in many regions affected by disasters and conflicts around the world. Thankfully, technologies and solutions are available that can quickly improve living conditions in humanitarian crises.
"Although there are other solutions available in the market, nothing comes close to our quality. Particularly not now that we have added an energy solution that makes our product stand out even more. Our partnership with NIBE has developed in record time and is outstanding. Together, we'll create an excellent market with our concept because of the enormous demand for this type of product in the world," CEO of CAS AB Bengt-Inge Brodén says in closing.