NIBE (and the sun) cool Icehotel 365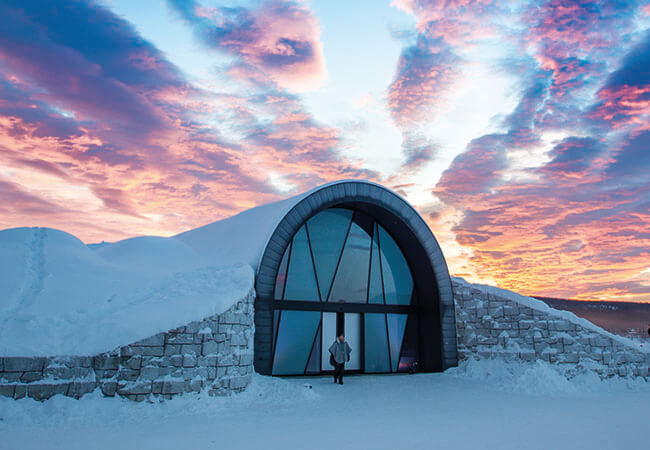 After a long working relationship with the world-famous Ice Hotel in Jukkas- järvi, NIBE has now been involved in the creation of the spectacular year-round Icehotel 365. This time it wasn't heat pumps, but NIBE's largest installation of solar panels to date. Solar panels that deliver 80 kW to the constantly frozen hotel
NIBE has been helping to heat Icehotel's various buildings for many years. Traditional buildings around the hotel have been heated with natural energy using a number of ground source heating systems. NIBE has now helped to supply the brand new hotel that is being built next to the Icehotel with cooling. Icehotel 365 offers guests overnight accommodation at a temperature of five degrees below freezing, all year round.
"Icehotel is committed to being as environmentally sustainable as possible and uses solar-generated energy. This means that the initiative is completely climate neutral," says Fredrik Snygg at NIBE.
The new hotel is designed for yearround use and is located right next to the Icehotel that is constructed from scratch each winter and then melts away into the river Torne Älv each spring. NIBE has installed solar panels on the roof of one of the building's halls and Teo Kyl Sweden in Hässleholm has built the cooling system.
"This is our largest solar system in Sweden to date and it's been fun and interest- ing to have been part of this project. The Ice Hotel drives developments with its entrepreneurial power and we contribute with our innovative capabilities. It's a large system but we have the capacity to supply solar panels from 3 kW all the way up to several hundred kW. There's no doubt that the sun is an essential part of future ener- gy efficiency systems," says Fredrik Snygg.
Icehotel 365 is filled with ice and snow from the river Torne Älv. The permanent structure is part of the classic Ice Hotel during the winter months. It contains 9 deluxe suites with a private sauna, bathroom and relaxation area, 11 art suites, an ice gallery and Icebar Jukkasjärvi; all handcarved by specially selected artists from around the world. The sun shines for 50 consecutive days during the summer, 200 kilometres north of the Arctic Circle. The solar panels absorb the almost constant daylight and generate a surplus of energy that is used for power and heating in restaurants, offices and other rooms and buildings.