Icelandic story of success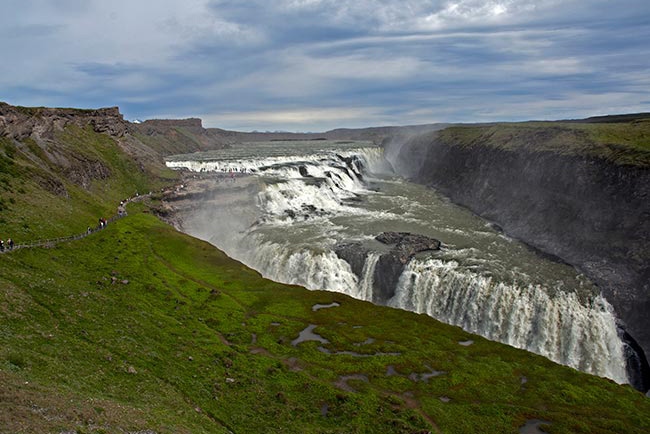 Things are going well for Iceland right now. The country's success at the European Championship in 2016 gripped the world and its Viking football chant placed Iceland firmly on the map.
Things are also going well for NIBE Interna- tional Sales, which has recently sold and in- stalled nine heat pumps via Icelandic Friorka at the Geysir and Gullfoss tourist centres.
The island, wich is famous for its volcanoes and hot springs, has natural heat in the ground and might therefore be presumed an unlikely market for heat pumps. However it's not as black and white as you might think... Most homes on Iceland are heated using district heating, taken directly from geothermal sources, but there are areas where the natural energy cannot be exploited. Sometimes the temperature is not high enough to be able to work directly for heating and hot water. This is where a heat pump is needed, but with a source of energy that's significantly hotter than the norm
Hot spring a source of heat
The Geysir hot spring area is Iceland's most popular tourist attraction with its central location and history stretching back 10,000 years. There is a house next to the geysir in which a NIBE F1245 is installed. It's serving as a guinea pig to find out whether waste water from the Great Geysir can also be used in a larg- er-scale project for a hotel that is being built nearby. Although it's a very ordinary heat pump installation, the circumstances are anything but ordinary.
The outdoor temperature varies during Iceland's "hot season" and affects the heat in the springs. The owners have therefore decided to install a heat pump to meet the needs of the facility. A loop placed in water at a temperature of 60 - 80 °C extracts hot water which flows into a secondary pool where heat is taken straight to the heating system. Energy is then extracted from a third pool to the NIBE F1245.
A hotel is being built close to the Geysir hot spring area. A source of energy has not yet been decided on, but the extraction of much more from the hot springs is not allowed as it would have a negative impact on the geysir. However, it is hoped that a NIBE heat pump will also be installed here and that the hot springs
can partly contribute as a source of heat. If the guinea pig NIBE F1245 produces favourable results, a similar solution could be suitable for the hotel should the hot springs not be hot enough to provide the building with heat and hot water all year round.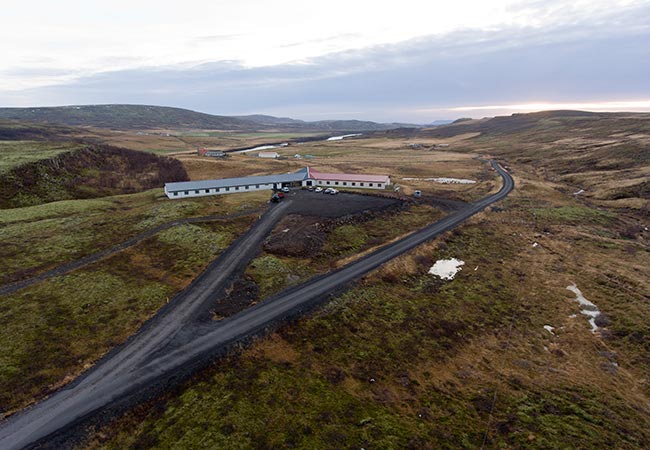 Prime location in Gullfoss
A NIBE F1345 is currently being installed by the Gullfoss waterfall, another popular attraction on Iceland. The tourist resort nearby with its restaurant and hotel is expanding and will need more heat pumps. The electrical system used today will be replaced by a ground source heat pump.
The business at Gullfoss is owned by two brothers, Jón and Svavar Njarðarsson. Gullfosskaffi is one of Iceland's largest restaurants, serving more than 200,000 meals each year. Svavar, the proprietor, believes it would have been impossible to extend the restaurant without a heat pump being installed.
"The power lines would never have handled heating with electricity," he tells us.
The restaurant, currently with a floor space of about 2,000 m2, is heated by a NIBE F1345-60 and another one will possibly be installed in the future.
Hótel Gullfoss is about 1,300 m2 in size and has a NIBE F1345- 40 installed. Hot water is supplied by two 1,000-litre accumulator tanks. At the time of writing, there are plans to extend
the hotel to twice its size, with the intention of then installing another NIBE heat pump. Three NIBE F1245-12s and one NIBE F1245-10 are also installed in smaller buildings adjacent to the hotel. There's also a NIBE ARIA heating a stable close by. All in all, there are seven NIBE pumps operating in the Gullfoss area, with potential for many more to be installed.
Since the partnership began in 2013, business for NIBE has developed favourably on Iceland and it sees opportunities for further growth in the years to come!