Gränsö Castle offers lovely spa experiences with heat from NIBE
Well-deserved for the pearl of the East Coast! Gränsö Castle is situated on a beautiful peninsula outside Västervik. Gränsö's history extends back 600 years in time, but today, the hotel and spa are anything but dated. In the spring of 2018, a major investment of five new hot tubs and pools was made. An investment that would not have been financially justifiable without modern groundsource heating. Welcome to Gränsö Spa and Hotel!

"It goes without saying that it requires a lot of energy to keep outdoor pools at 38 degrees year round, regardless of whether the temperature is minus 15 in a full snow storm or it's just a typical summer day. With NIBE's ground-source heat pumps, we have been able to make good financial sense out of a fantastic spa experience for our guests," says Per Johansson, Lord of Gränsö Castle.
Swedish tourism is growing stronger and is a primary industry for Sweden. To win tourist and visitor favour, we need to invest in new experiences. A good example is Gränsö Castle, which in advance of 2018, invested SEK 25 million in building five new hot tubs and pools at Gränsö Spa and Hotel. All of which are heated by NIBE's ground source heat pumps.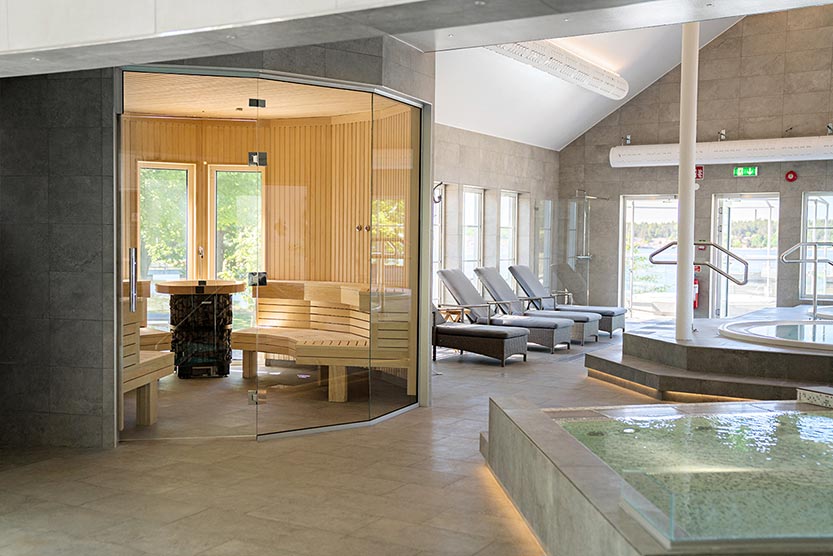 Bored into the ground
"During the autumn, our partner Rörbolaget bored into the ground for the second time and installed a new, powerful ground-source heat pump with whole new AHUs and equipment room. A necessary investment to provide heat to our new spa and pools. Not only does it work flawlessly, but we barely increased our energy consumption in spite of the fact that we have five new heated pools and tubs. It's a great thing for us and our visitors," says Per Johansson of Gränsö Castle.
Castle Lord Per Johansson explains that it is his good relationships with a number of energy and construction partners that made him invest in ground-source heating. For example, his relationships with Västerviks VVS Råd and NIBE installer Rörbolaget M Söderkvist who installed both ground- source heat pumps from NIBE Energy Sys- tems, i.e. NIBE F1345-24 and most recently NIBE F1345-60.
"The facility is spectacular with its big machines and beautiful work areas. It is also developmental to cooperate with Per, a true, curious entrepreneur who invests in the future. Since the hotel is situated on a peninsula, it is not likely that we would have been able to get that much electricity from the grid to heat up all his pools, so you could say that ground-source heating makes the impossible possible," says Mats Söderkvist of the Rörbolaget installer in Västervik.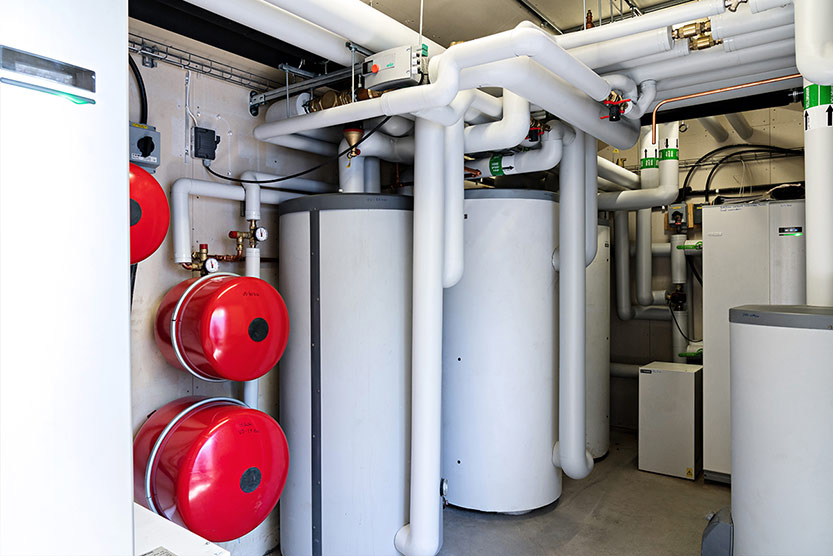 The "Icelandic Hot Spring" set a new standard
The investment in NIBE's ground-source heat pumps began in earnest two years ago when the "Icelandic Hot Spring" was inaugurated outdoors. It requires muscle to keep an even temperature of 38 degrees in snow and rain year round. The solution was NIBE's own ground-source heat pump F1345-24 for the pool, which has worked impeccably and created dreamy heat for an increasing number of guests.
"We have been consistently happy with the solution. The heat has been stable and it has worked without flaws. A success for our guests. Everyone wants time in the Ice- landic pool. Due to customer interest, we decided to make a substantial investment in a fourth extension of our spa in advance of 2018," says Per Johansson.
During the autumn and winter, Gränsö Spa and Hotel, invested in five new pools, buildings and associated technology. Two new 38 degree pools, an indoor reclining pool, an outdoor massage pool and a large outdoor infinity pool. All heated by a 60 kW NIBE F1345.
"We probably would not have been able to run the facility on anything but ground- source heating. Direct electrical heating would have destroyed our calculations and made it much too expensive. Instead, we can receive so many more guests and offer generous heat all year round, while doing sound business," Per Johansson of Gränsö Castle concludes.
Future investments
With his good experiences with groundsource heat pumps and his relationships with NIBE, Per sees it as very likely that it will lead to additional energy solutions from NIBE Energy Systems in the future. But before beginning construction of 17 new hotel rooms, Per and his guests will enjoy the lovely summer season at the finest spa facility on the east coast, Gränsö Spa and Hotel. The Castle and Beauty on the Sea.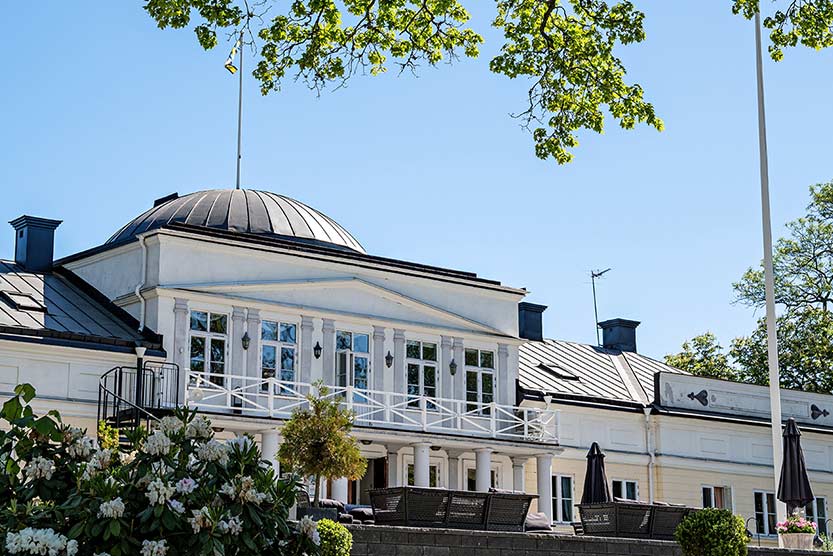 Facts
Gränsö Castle and Gränsö Spa and Hotel.
NIBE F1345-24 and F1345-60.
Total of 84 kW output from ground-sourceheat pumps.
600 plus 1,200 metre borehole.
Ground-source heating warms 8 pools andunderfloor heating.
Installer: Rörbolaget M Söderkvist AB.