From oil to ground source heating. That's how the Grand Hotel Mölle plans to reduce its energy bills by 75 per cent


It looks like a dream. One of Sweden's most luxurious hotels, the Grand Hotel Mölle sits majestically at the top of the hill, commanding a splendid view of the sea. Its walls are a memorial to 100 years of bathing life, with guests from all over the world. The hotel exudes history in every corner and, in 2018, it will achieve yet another historic milestone. This is the year that the Grand Hotel will stop using oil! From now on, the hotel's heating and cooling will come from the ground.
The Grand Hotel Mölle was built in 1909 on the hillside above the seaside village of Mölle, with Kullaberg nature reserve behind it and an uninterrupted view of the sea below. One of Skåne's, or should we say Sweden's, most luxurious fin-de-siecle hotels, ornately deco- rated and with lounges that take you back to a bygone era, the hotel is a popular destination for foodies, partylovers and weekenders who revel in its Mediterranean/Tuscan ambience. Since 1998 the hotel and restaurant have been run by Eva Dahlberg and her husband David Mill with a passion for quality, local produce and sustainability.
–We adore our lovely old hotel and want to give people the best possible experience during their time with us. After many years of refurbishing the Grand Hotel and its sister hotel the Olympia, we have finally invested in an energy solution that we have been dreaming of.
The hotel has always been heated by oil, but now we are converting to ground source heating. This is an investment that has been a long time coming, and it will revolutionise our energy consumption, says Eva Dahlberg, Managing Director of the Grand Hotel Mölle.
The decision to take the bull by the horns and make the biggest investment in energy the hotel has ever made is the result of a growing interest in the environment and a huge amount of frustration over wasted energy and an outdated heating system.
–Managing our old oil boilers has been a bit like an episode of Fawlty Towers! Getting the temperature right has been impossible, so the hotel has either been too hot or too cold. I've rushed around like an idiot trying to get the hotel to a comfortable temperature but it hasn't been easy and it certainly hasn't been cheap, says Eva, with a chuckle.
After careful comparison of the options available, in 2017 she took the decision, in conjunction with NIBE Energy Systems and installation firm Håkanssons Rör of Halmstad, to convert from oil to geothermal heating and heat pumps to heat and cool both hotels.
–Ultimately, investing in ground source heating was an easy decision. As well as the fantastic environmental benefits that it will bring, I'm looking forward to being able to have heating wherever and whenever I want it and no longer having to worry about my oil bills, which have been huge! And, in a beautiful old hotel like this, the fact that the system is out of sight in the basement and under the ground is also a major advantage, says Eva, whose system upgrade will be complete by early spring 2018.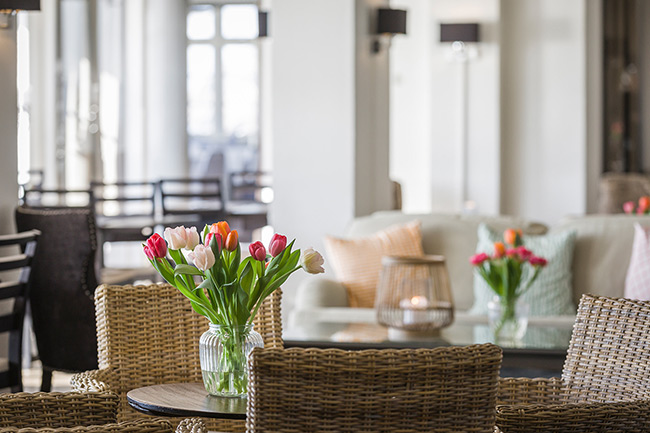 Out with the oil boiler, in with 13 holes in the ground
February 2018 saw the first of 13 holes being drilled, each of them 250 metres deep. Ten holes at Eva's showpiece Grand Hotel and three at its sister hotel, the Olympia, which is located a stone's throw away, just behind the Grand. Installation firm Håkanssons Rör of Halmstad has the honour of being responsible for the entire project, from start to finish.
–This is a great honour for us. Playing a part in futureproofing such a beautiful, vibrant hotel is a real privilege. We are delighted that we will be handing over a system that no longer requires Eva to turn on leaky shunts to control the heating but rather a system that allows her to control everything simply from her tablet. Talk about a Formula 1 car in the shell of a beautiful T-Ford! says project manager Staffan Berg from installation firm Håkanssons Rör of Halmstad.
In all, three NIBE Energy ground source heat pumps will be installed at the two hotels. One NIBE F1345 at the Olympia and two at the Grand Hotel. The hotel was closed for two weeks in February to allow the installers to get on with the job. Once the properties have been converted from oil to ground source cooling and heating, some 40 bedrooms, as well as the restaurant, kitchen, conference rooms and communal spaces will be heated using ground source heating. The kitchen will be supplied with passive cooling from the ground from the outset, which means that the existing air-conditioning system can be dismantled.
–Being able to control the heating and cooling in the five areas of the Grand Hotel quickly and easily and being able to raise and lower the temperature as required without worrying about the cost will make our lives so much easier, and we're really looking forward to welcoming guests to our new Grand Hotel 2.0, says Eva.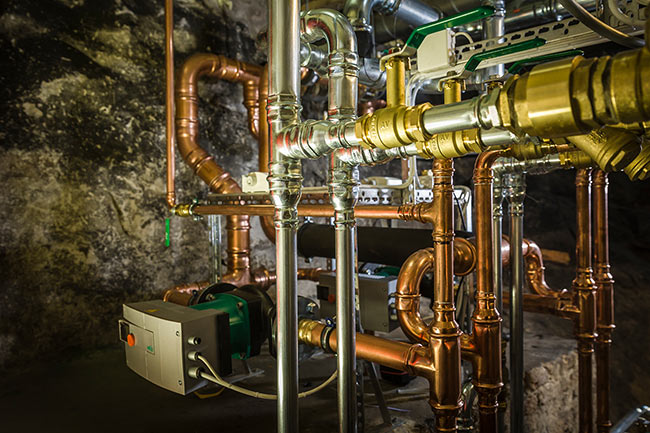 Major environmental and financial savings
150 MWh of environmentally friendly ground source electricity will replace 52 cubic metres of oil a year, which is a major step forward for the hotel in environmental terms! Or, in financial terms, costs will fall from SEK 750,000 to around SEK 160,000 kronor per year.
–The figures say it all. We'll have paid for the entire investment within as little as 5-6 years. After that, we'll save hundreds of thousands of kronor a year in reduced costs as well as having a much better indoor climate. Our only regret is that we didn't do it earlier, but we've been totally focused on creating a fantastic hotel for our guests. But now at last it's happening and we expect it to cause quite a stir, says Eva.
Solar power will be an integrated power source
Another of the hotel's environmental initiatives is the installation of four charging sta- tions for electric cars, two of them for Tesla cars. Charging is free to guests, who always take priority. There are also plans to install solar panels on the hotel's south-facing roof in the near future.
–Solar panelling feels like a totally natural next step, and we have the perfect flat, south-facing roof, so we won't spoil the appearance of our landmark hotel. These investments demonstrate that we are leading the way on environmental issues, which fits well with our commitment to using local and organic ingredients, concludes Eva Dahlberg, Managing Director of the Grand Hotel Mölle.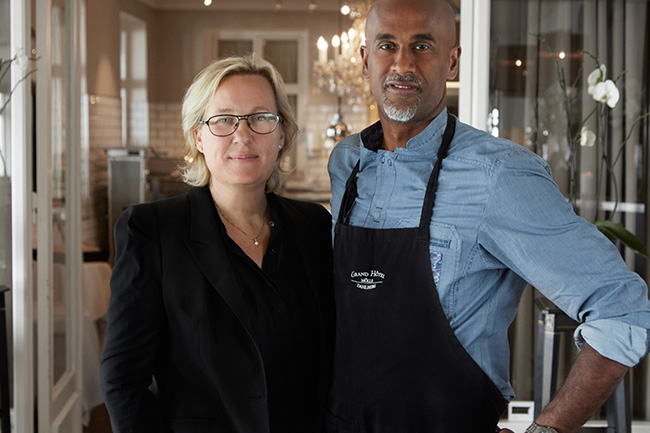 Grand Hotel Mölle and Olympia
Owned and run by Eva Dahlberg, who took over the hotel from her parents in 1998.
In 2017 Eva Dahlberg won the Entrepreneur of the Year award for the province of Skåne.
The Grand Hotel Mölle and its sister hotel the Olympia have a total of 40 bedrooms, a restaurant and conference rooms.
Converted to ground-source heating from oil-fired heating. Total consumption - 52 m3 of oil per year.
Installation firm Håkansson Rör will drill 13 holes and install three NIBE F1345s, with a total output of 160 kW.
The system will supply hot water and heating and, initially, passive cooling in the kitchen and dining rooms.
Investment: SEK 3-3.5 million. Payback time: 5-6 years. Will cut energy bills by approx. 75 per cent.
The next phase will include solar panels and the expansion of passive cooling.