Floating high tech-house with unique sea heat.
One difference between living on water than on land is that the energy installation needs a little extra love in its design and installation.
-We had a lot of questions about everything from moisture to waves, but we're really pleased with both the house and the indoor climate, says Stefan Fölster, who lives here with his wife Catharina Barkman.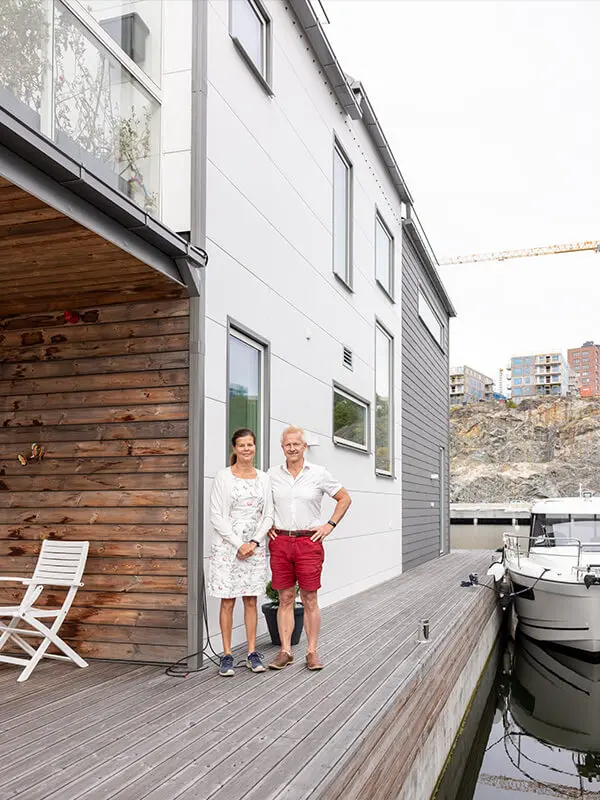 Stefan and Catharina enjoy passive cooling in the summer. Then it's the sea that cools the heating.
At the jetties in Svindersvik, between Nacka and Stockholm, there are thirty permanently moored houses rather than boats. Catharina and Stefan live in one of them.
-We looked for solutions for a long time, says Stefan. We wanted something like combining an apartment close to the city and a summer cottage in one and the same home, but that's not easy to find in Stockholm. We finally found it in the form of a floating home.
The floating house was built in Västervik. A year ago, it was transported here by barge and installed on site. Last summer, the couple moved in. The 210 m² house has two floors and a 100 m2 roof terrace. It has tall
ceilings, is well-equipped and has large windows that provide a wonderful view of the sea, forest and newly built urban environment on Kvarnholmen opposite.
-We had a lot of questions about everything from moisture to waves, but we're really pleased with the house. We can live here all year round, and in the summer it's better than a holiday cottage. We can just jump into the water and we can dock a boat next to the house rather than having to go through a boat club. It's also nice in winter. The water changes and the view is beautiful. One difference from living on land is that we don't have a crawl space that can get damp, but we do have to hire divers to check the chains occasionally. Once you get used to it, there's not much difference!
Unique sea heating solution
The comfortable indoor climate with underfloor heating throughout the house is the result of an S-series ground-source heat pump with passive cooling and a wood-burning stove for the cosiness factor.
-It's nice and warm, we have good ventilation and it's not at all damp," Stefan explains, and continues: It's almost as well insulated as a passive house.
Obtaining passive cooling from a borehole isn't an unfamiliar concept to us. What's exciting about this particular project is that we get our cooling from the sea instead. The collector is cast into the hull and cools the house's heating system. We also send out spot cooling to two fan convectors in the bedroom and the combined kitchen/living room. As the icing on the cake, there's a liquid-filled cooling coil for the house's FTX unit, which then cools the house's supply air ducts with the same cooling.So on a really hot summer's day, we combat heat in the house in three different ways, which in itself is unique.
House supplier Aqua Floating Group has a unique solution to protect the collector hoses and get maximum effect from heat from the sea.
-The concrete used for the pontoon is the same as in bridges, and is completely waterproof, Stefan explains. The collector hoses for the ground-source heat pump have been cast into the bottom of the pontoon. It works very well. The heat pump takes care of itself and we have reasonable heating costs. As we have a lot of large windows, we also benefit from cooling in the summer.
The collector hoses have been cast into the bottom of the pontoon.
As an afterthought, Stefan started to control the heat pump via the myUplink app.
-I should have done that right away. The app allows full control of the heating system, not just remotely. Even when you're at home, myUplink is easier to use and more transparent than the control panel on the heat pump."
For Stefan and Catharina, it's especially important that everything works even when they're away.

-Then we start up the irrigation system for our plants and can let guests in remotely. Being able to keep an eye on the heating system while away also gives a sense of security, Stefan concludes.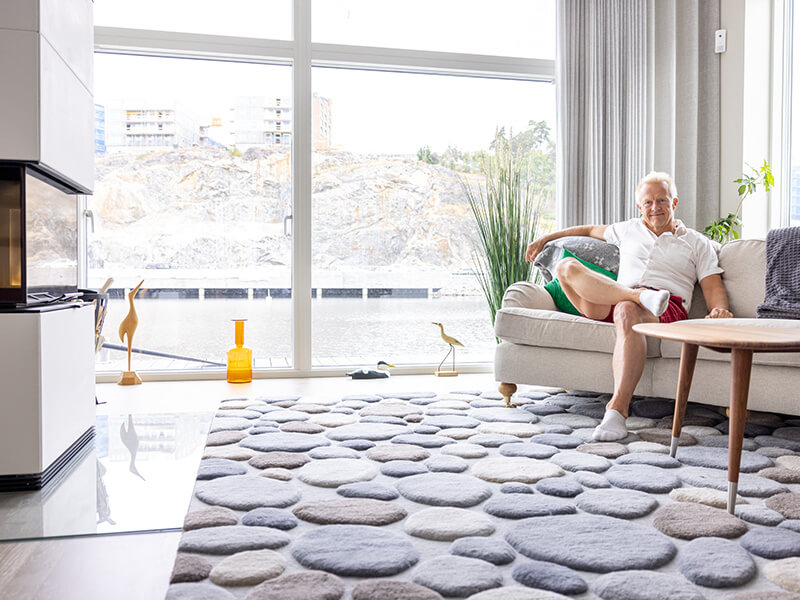 The wood-burning stove from Contura is mostly for the cosiness factor, and the S-series groundsource heat pump supplies underfloor heating.
"The Aqua Floating Group has been doing marine development for over 50 years. During the 2000s, almost 50 floating buildings were delivered, the majority of which are energy-efficient, comfortable single-family homes on 2–3 levels.A majority of them have been successfully equipped with a collector hose in the floating structure connected to NIBE's ground-source heat pump. Our company is proud to have this stable type of environmentally friendly, high-efficiency energy extraction from sea heat. It's a self-patented solution that we are highly praised for.
Planning is currently also under way for apartment blocks, semi-detached homes and restaurants, where everyone involved is curious and keen on our NIBE solution. In Västervik, we're now building a unique new house factory that will give us ten times more delivery capacity that can deliver efficiently both over land and water. We have a significantly increased inflow of prospects, so both we and NIBE have reason to focus on customers in the years to come!"
- Johan Olofsson, VD Aqua Floating Group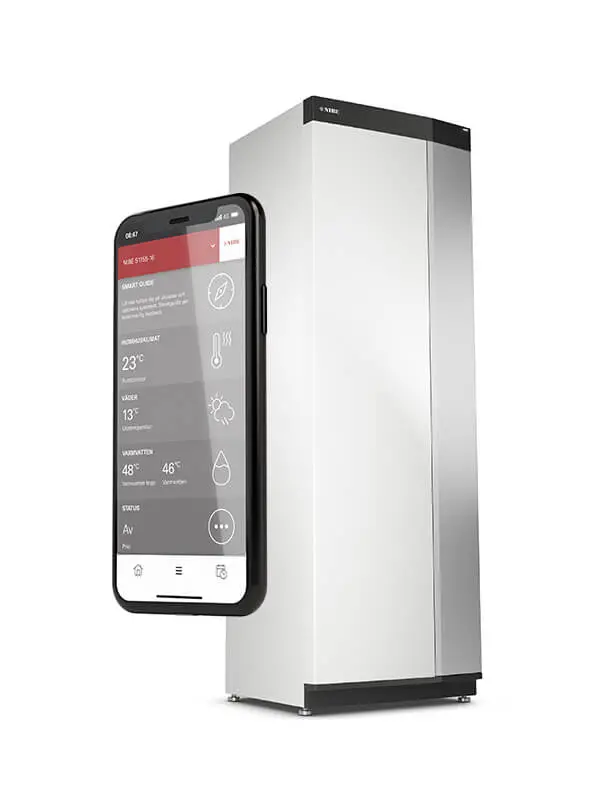 Energy solution
NIBE S1255 ground-source heat pump with cooling and myUplink, ventilation unit and underfloor heating, Contura wood-burning stove
Energy consumption in year one: 13,000 kWh incl. domestic electricity