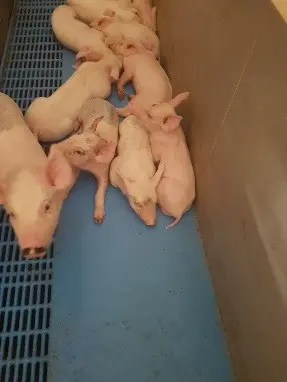 The Manor Farm, Hertfordshire
Farmers are well aware that a pig's living environment is really important to optimise production and maintain good health of the piglets. Baby pigs require temperatures of at least 24 degrees Centigrade in the first four weeks of life, then around 20oC for four weeks afterwards. Matthew Northern, farmer at Manor Farm in Hertfordshire, recognised how renewable energy from heat pumps could be used to provide more effective heating for his pig farrowing units. He had heard how a number of pig farms in Holland used heat pumps to maintain a comfortable temperature in their buildings. Mr Northern had an oil boiler to run the underfloor heating system in his pig building, which was expensive to run, especially as it needed to be left running for most of the year to maintain a constant temperature for the piglets.
The Solution
Following research on alternative renewable systems, the farmer decided to replace the oil boiler with a more efficient heat pump system and with a greater 40kw output. He recognised that by doing this he could take advantage of the non-domestic Renewable Heat Incentive, which pays up to 9p per kWh of heat generated, for a maximum 20 year period. In addition, as each sow generates around 0.5kW of heat, it made sense to make use of this unique energy source too.
NIBE came highly recommended to Mr Northern by an industry expert, so he looked for a local NIBE approved installer who was willing to take on this innovative project. Better Planet, an MCS-accredited installation firm, based in Potters Bar, impressed Mr Northern with their commercial experience and flexible approach.
Tomas Larsson from Better Planet recommended a NIBE F1345 ground source heat pump, combined with an exhaust air system which extracted heat generated by the pigs themselves. This would be used to meet the extended space heating requirements through the piglet building's existing underfloor heating system and supplying hot water for the staff washing area.
Better Planet supplied ground source collector loops in horizontal trenches which were dug at the side of the pig building. A heat exchanger imported from Holland linked up to the ground source heat pump to transfer heat from the ground and extract warm air generated by the pigs themselves to convert to energy to heat the building.
Tomas Larsson from Better Planet, explains: "This was the first time we've actually incorporated exhaust air from heat generated from animals to heat a building –and it has been very successful. The new heat pump system will be so much more efficient and affordable to run than the previous oil-based system. The farm will make major savings over the years, as well as it being a much more sustainable solution with a lower carbon footprint."
The steel framed building is 54m x 12m in total and is split into three rooms. Each has 80mm insulation and is clad in composite cladding. The building is occupied by 52 sows and around 600 piglets and also has a ventilation system to extract air to outside to keep a fresh indoor environment.
Results
Mr Northern has carried out a comparison of the previous cost of heating the pig unit by oil and the cost of running the heat pump, plus the payback from the Renewable Heat Incentive. The calculations show that the farm will save around £11k per annum by utilising the heat pump.
Testimonial
Matthew Northern said: "I'm really happy with the way the heat pump system is working and how efficient it is. Compared to the oil boiler and with the payments we will receive from the RHI, it means we should make major savings on fuel every year. Our calculations show that the heat pump system should give a rapid return on investment."
He adds: "The NIBE system is very easy to operate and offers very low maintenance. It just does everything we need it to do, keeping the pig unit at a constant temperature –whilst being very safe and efficient."
About Better Planet
Better Planet UK Ltd is based at Potters Bar in Hertfordshire. The company is MCS accredited and specialises in microgeneration systems including heat pumps, solar PV, solar thermal and MVHR. For more details visit www.betterplanet.co.uk