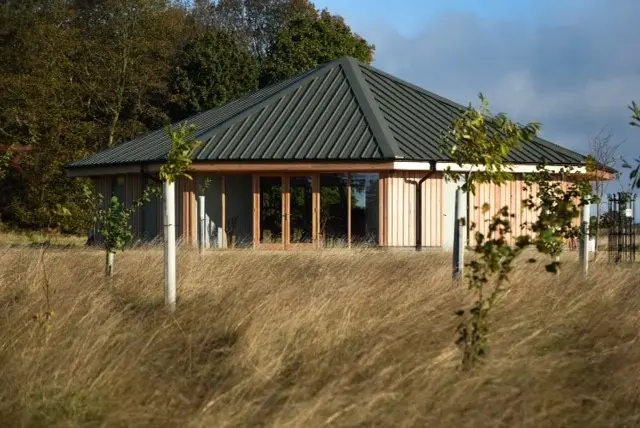 Norfolk Bluebell Wood Burial Park
Norfolk Bluebell Wood Burial Park in Hainford near Norwich is a unique nature-inspired park set amongst 18 acres. The Morton family purchased the land, with the intention to use it for farming, however when they discovered the ancient beautiful bluebell wood that stretched for five acres, they felt that this calming oasis of tranquillity was destined to be somewhere that connected people and nature.
Andrew Morton set about planting 4,800 trees on the land to offset carbon emissions, as part of their commitment to sustainability. They also came up with the concept of Norfolk Bluebell Wood Burial Park and they started planning the construction of the ceremonial hall, known as Cedar Hall .As part of their focus on the sustainable use of resources, they started to look at renewable heating sources and heat pumps were an obvious choice.
The Solution
Andrew asked three heat pump installation companies to quote and selected RA Brown as the most experienced and also as they were located very close to the land they had acquired.
RA Brown, a NIBE VIP installer based in Norwich, recommended a NIBE F1255 12kW ground source heat pump. NIBE F1255 is an inverter-controlled heat pump with an integrated water heater. It also offers weather compensation, which allows the system to run without intervention to keep a consistent temperature even in extreme weather changes.
Phase 1 of the project involved RA Brown installing ground collector loops under the car park and trenching it to the proposed position of the hall, which was marked out with a marquee.
900 metres of pipe was specified to ensure that sufficient heat was available for the hall when built, as the final design still was not confirmed at that point.
These groundworks were carried out before the park was open to the public as it was important that the work was done considerately and with limited disruption to any families or users of the park.
RA Brown identified that the ground conditions were damp sand, which is not ideal for conducting heat, however this was taken into consideration in the heat pump's technical design. The heat pump was designed to perform at 0°C brine conditions.
Phase 2 of the project saw building work commence on the Cedar Hall. RA Brown extended the ground loops to the plantroom, which is housed within a discreet section of the building. The company then installed 1,200 metres of underfloor heating, which provides space heating throughout the building and also provides 180L hot water for use in Cedar Hall's kitchen and toilets.
Results
The heat pump system is performing above expectations with brine temperatures averaging 4°C in the winter. This means that the system is performing at a very high efficiency and using less electricity to produce the heat required.
The building qualifies for funding under the Commercial RHI, which provides regular payments over 20 years for using renewable technology. R A Brown fitted electricity and heat meters, which measure the amount of heat generated, so that accurate payments are received quarterly.
An analysis of the meter readings has revealed that, after 12 months of installation, the heat pump is performing at 586% efficiency, which is exceptional and delivers a Seasonal Performance Factor of over 5:1.
Testimonial
Andrew Morton, owner of Bluebell Wood Burial Park, explains: "We selected R A Brown, as they are a preferred supplier of Anglia Farmers and they are experts in their field.
"We have been really impressed with their work installing the heat pump. They have done everything they said they were going to do. The engineers were excellent and very tidy workers, which meant the project ran smoothly and we were really pleased with the final result."
Caroline Morton said: "Cedar Hall has been really well received by our clients. It is very warm which makes the building feel really welcoming for our families. The underfloor heating complements the design inside the hall as it is not intrusive or unattractive with radiators on display."
The land on which Cedar Hall and the burial park is located was originally home of Robert Marsham who was the English naturalist and founding father of phenology – the study of the effects of the seasons on plants and animals. It is now overseen by the Woodland Trust.
Cedar Hall was winner of the Public Services Category at the national RIDBA Building Award 2019. The judges commented that this 'impressive building' made good use of 'environmentally friendly materials' including a ground source heat pump whilst achieving an intrinsic design requirement that the 'building's aesthetics were to blend in with the immediate environment'.
Cedar Hall has also been awarded the Gold Carbon Charter from Norfolk County Council for its green credentials.
The award-winning Cedar Hall is available to hire for funeral or memorial services and gatherings or wakes. It has seating for up to 120, with additional capacity for standing (total capacity of 200).
For more details contact www.norfolkbluebellwood.co.uk or email andrewmorton@norfolkbluebellwood.co.uk.
About RA Brown
R A Brown Heating Services Ltd is a family-run company which was established in 1987 offering independent design and installation of heat pump systems in Norfolk & North Suffolk.
A NIBE installer with 12 years' experience in heat pump installation, RA Brown offers everything from ground source to air source, underfloor heating, to solar thermal or mechanical ventilation and heat recovery.
For more details, visit www.rabrown.co.uk.