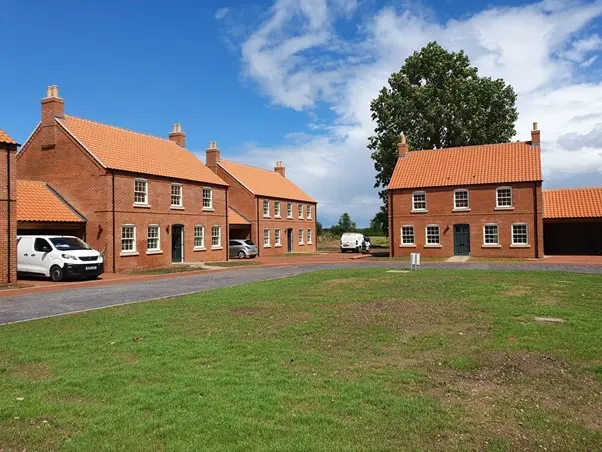 New Low Carbon Homes in Doddington
A brand-new development comprised of thirteen 2-4-bedroom homes was completed in Doddington this year. Inspired by the decision to deliver low carbon homes to its future residents, the project sought to find a renewable heating and hot water solution for each property. The goal was to deliver eco-friendly homes that are warm and comfortable to live in as well as kind to the planet.
The Solution
The installation of Ground Source Heat Pumps is compatible with new build developments like this one: the groundworks required can be installed at the same time as other work takes place, allowing for machinery to move from property to property as part of the overall construction process.
The project moved forward with the help of Newark based Trusted Energy Solutions, who installed thirteen Ground Source Heat Pumps – one for each property. In total, five 12 kW F1155 and eight 6 kW F1255 GSHPs were installed from NIBE's product range. All thirteen systems are connected to a shared ground loop (SGL) -a series of pipes used to extract heat from underground. NIBE Megacoil hot water cylinders were also installed in addition to insulation measures and underfloor heating.
Trusted Energy's Sales and Marketing Director, Dan Wilson, stated, "The Developer wanted to create an estate of energy-efficient homes that could showcase how renewable technologies can reliably deliver lower energy consumption, reduced energy costs and minimal environmental impact. In doing so, they have also given the homeowners an environmentally friendly heating system that amplifies comfort and protects them against fluctuating fossil fuel prices."
The Results
The groundworks and heat pumps were installed by Trusted Energy Solutions in March 2020. The total annual heat demand for the properties combined stands at 201,000 kWh. Due to the shared ground loop being connected to multiple heat pumps, the project now benefits from payments through the Government's non-domestic Renewable Heat Incentive (RHI).
Testimonial
The architect working on the project said, "We considered Ground Source Heat Pumps the best source of renewable energy for these new homes and NIBE came out on top during our search for a reputable product. We are really happy with the heat pumps."
About Trusted Energy Systems
Trusted Energy Solutions is based in the East Midlands and provides heating and energy solutions to both commercial and domestic customers, specialising in Ground Source Heat Pumps, Air Source Heat Pumps, Solar PV and Heat Recovery Ventilation (MVHR).