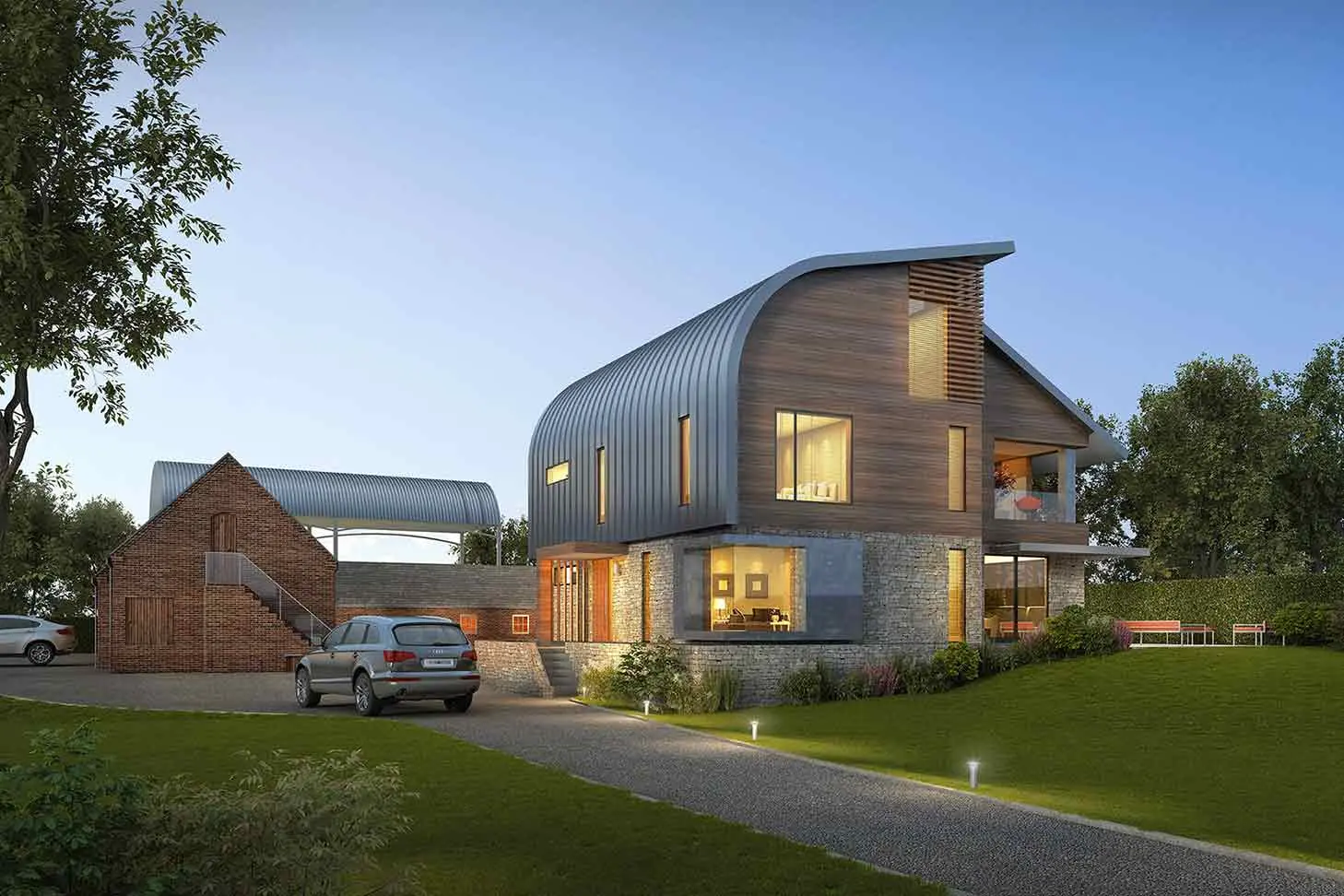 Marsh Flatts Farm, Derby
Marsh Flatts Farm is a stunning new build project by Dr David Brooke, a mechanical engineer turned IT consultant who had the vision of creating a supremely energy efficient home. Pushing the boundaries of design, the five-bedroom contemporary vernacular farmhouse designed by Justin Smith Architects was intended to achieve the Passivhaus Plus standard – a home that combines a Passivhaus approach to minimising energy requirements with on-site renewable energy generation. Nestling on a 0.75 hectare site in Green Belt just a few minutes' walk from the nearest village, the property has embraced all elements of technology to reach the required standard. Furthermore, natural and authentic materials have been used to reinforce the integrity of the building and it features aesthetically pleasing external elements such as a zinc roof and unrivalled levels of eco-friendly insulation. The three storey property has its heat and hot water generated by a NIBE F1145 8kW Ground Source Heat Pump which is located in a dedicated plant room on the second floor. This is linked to under-floor heating across most of the ground floor of the property and over-sized towel radiators in all the bathrooms, together with a heat exchanger in the ventilation system supply duct. In addition there is a 300l buffer tank and NIBE Uplink system to give individual system control.
The system, designed and installed by Carbon Legacy, used two collector loops that were laid in the garden in parallel trenches. The collector pipes are made from polythene and are 32mm in diameter with a 3mm wall thickness. These connect at an external manifold chamber via 50mm polythene pipes which then link back to the house. The system is completed with 28mm copper pipes linking from the ground floor to the plant room. In addition to the Ground Source Heat Pump, other sustainable elements of the property included Solar PV (also installed by Carbon Legacy), fully automated smart control systems, NIBE Uplink and a combination of an electrical sub-meter on the supply and heat meters on the GSHP outputs to monitor detailed heating performance and efficiencies. To accompany the Passivhaus levels of air tightness a Mechanical Heat Recovery System (MVHR) was installed. LED lighting and room lighting sensors complement other sustainability initiatives.
The Solution
"This was a superb project to work on and David's vision for his Passivhaus home was inspirational," said David Hill of Carbon Legacy. "The installation was seamless and, because we were involved from the very beginning, we were able to ensure all elements of the heating and hot water supported the quest for Passivhaus Plus certification.
"We selected the NIBE heat pump due to the excellent performance it delivers but also for its quiet operating noise levels. Situated in the plant room on rubber pads, the already quiet performance is reduced even further so that it is barely audible in the bedroom below.
"To ensure effective management of the system NIBE Uplink was installed giving Dr Brooke greater control over the system allowing both him and us to monitor performance on a daily basis. Should there be any maintenance issues I am also alerted of these and can often make the necessary adjustments remotely. In addition heat meters have been installed to determine the Coefficient of Performance (COP) figures which have delivered superb results, as high as 4.8.
"This home takes energy efficiency to a whole new level but it does also simply show the benefits of heat pumps and the ways in which they can harness natural energy in such a positive way.
"As understanding continues to grow I see more and more people choosing heat pumps, not only as an off-grid solution but also as an alternative to mains gas. NIBE continues to be the best on the market and remains leaps and bounds ahead of its competitors."
Testimonial
Dr David Brooke homeowner commented; "Marsh Flatts Farm is a shining example of architectural design and energy efficiency and I am thrilled with how the project has turned out, nearly achieving Passivhaus Plus certification (only falling slightly short on the as-built air pressure test). The EPC rating is right at the top of Band A, with a score of 100.
"There's no mains gas at the property so a Heat Pump provided the ideal solution, especially given the relatively low heat demand for a 300 m2 house. A Ground Source unit was perfectly suited to the site and I like the way it maintains its efficiency better than an Air Source unit in cold weather, when it's working hardest.
"For domestic hot water, I have an automated system fitted to the Solar PV installation which diverts excess solar generation to the immersion heater. On dull days there isn't enough sun to produce excess power but the NIBE heat pump kicks in automatically, ensuring there's always plenty of hot water.
"Carbon Legacy were probably the best contractors on the project. Everyone on their team was highly knowledgeable and thoroughly helpful. I learned a lot from them and I wouldn't hesitate in recommending them to anyone else looking for a professional and trustworthy design and installation team.
"I hope I don't come across as some sort of eco-warrior because I'm really not like that. I have the heating set at 21 degrees all the time because that's what I find most comfortable – I just like the fact I can enjoy that comfort while also helping to combat climate change.
"I'd never heard of NIBE before they were recommended to me by Carbon Legacy. It didn't take much research to discover they have great credentials in the industry and I love the NIBE Uplink system.
"As part of the Architect's brief for my new home I stated I was prepared to invest up-front for long-term benefit. Aiming for the Passivhaus Plus standard was a big part of that and installing a Ground Source Heat Pump was important too. My Renewable Heat Incentive payments are about £1000 per annum and over a seven-year period that will go a long way to offsetting the initial investment. With the quality of the NIBE solution I see no reason why I shouldn't get many, many years of trouble free service.
"There's mounting evidence that it needn't cost any more to build to Passivhaus standards than to current building regulations, so I really think everyone should be doing it. There's nothing to lose. In the UK we've made great progress in switching to renewable sources of electricity so heat pumps are a great way of moving away from fossil fuels for heating – particularly in new builds.
"Whilst my property is approaching the highest standards for energy efficiency I hope it provides the evidence that these are perfectly achievable using existing, proven solutions. I encourage all self-builders, architects and homeowners to explore the options surrounding heating, hot water and sustainability. Thanks to a great team I have a wonderful, energy efficient property which I am proud to have as my home."