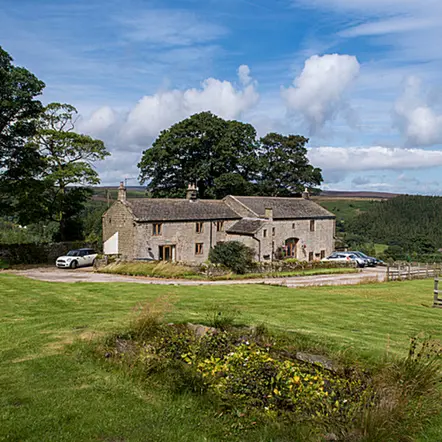 Ivin Waite Farm, Nidderdale
A striking barn conversion in the heart of Nidderdale, North Yorkshire, has capitalised on the benefits of installing a NIBE Ground Source Heat Pump system to supply heating and hot water to the 200 year old property. Owners of Ivin Waite Farm, located on the fringes of the hamlet of Bewerley, close to the affluent spa town of Harrogate, chose the system as a replacement to its LPG system which was costly and required modernising. Annual costs for running an off-grid LPG system can be four times as much as a sustainable source and generate at least twice as many CO2 emissions. Ivin Waite Farm had been converted by the previous owners, over a number of years, and more recently the barn part of the building had been transformed into a large sitting room area. This final renovation, by the current owners, included under floor heating which was another positive element to support the introduction of ground source heating. Believed to have been constructed in the mid/late 1800's, it was originally a tenanted farm on the Mountgarret Estate.
The homeowner, Richard Dutton, who has lived there for four years with his family, explored renewable heating systems which supported the off-grid nature of his home and his research highlighted the efficiencies of Ground Source Heat Pumps, their capabilities of supplying heat and hot water and their carbon neutral credentials. Installers Yorkshire Heat Pumps specified and installed the system comprising two 12kW heat pumps – due to the vastness of the property (251 sqm) - and water cylinder to fulfil the home owner's requirements. The NIBE VPB200 water cylinder gave 200 litres of hot water for the property along with a 200 litre buffer cylinder which stored excess thermal energy temporarily, before being transferred back into the heating system when required.
The Solution
"NIBE's Ground Source Heat Pumps provided the perfect solution for Richard's old farm property and would deliver the cost savings he was looking for compared with his antiquated LPG system which were estimated at over £1200 per annum," commented Kate Wright, Communications Director Yorkshire Heat Pumps. "The quality of NIBE products and their reputation for successful installations in rural settings attracted the homeowner to this solution and, as we were familiar with such systems we were well placed to advise him on everything from equipment requirements to installation procedures and the longer term return on investment."
The project required the installation of two NIBE F1145 – 12kW ground source heat pumps with a 200 litre NIBE VPB hot water cylinder and 200 litre UKV buffer cylinder. 1500 metres of pipe was laid in the paddock adjacent to the Dutton's home which, whilst labour intensive, generated the required heat so that they could enjoy ambient temperatures throughout the day and night rather than limiting the use of their previous system due to escalating and unsustainable costs.
The Ground Source Heat Pump System works through a buried pipe system laid 1.2 metres below the surface which extracts heat from the ground to provide efficient and reliable heating and hot water. It circulates a mixture of water and antifreeze around a ground loop. The heat is absorbed into the fluid which then passes through a heat exchanger and into a heat pump. Because the ground stays at a remarkably consistent temperature below the surface, and is not affected by weather conditions heat pumps can be used successfully throughout the year.
Results
The system was designed and installed by NIBE VIP Installer, Yorkshire Heat Pumps, whose experience in this field allowed for a seamless system installation right from site survey, through to commissioning and ongoing maintenance support.
The NIBE F1145 ground source heat pumps fitted at Ivin Waite Farm were ideal for this retro-fit situation and the land surrounding the property was ideal to accommodate the 1500 metres of pipe required to extract heat for this large converted barn.
This particular pump is also available in 5kW, 8kW,10kW and 15kW all of which enjoy a A*** energy rating. A 17kW solution is also available. Furthermore, the range is installer and user friendly and can offer indoor comfort and hot water as well as cooling and ventilation.
Testimonial
Richard Dutton, homeowner commented; "A Ground Source Heat Pump system has solved all our heating and hot water concerns and allowed us live in a property which we can maintain at a steady 18°C rather than having heat on for a couple of hours in a morning and the same in the evening. The cost of running the LPG system had become untenable and we were keen to address our heating issue with a renewable system. Whilst the installation was only completed towards the end of last year we expect our RHI (Renewable Heat Incentive) payments to assist in minimising our energy costs. In addition to the reduction in running costs, perhaps the best thing was that no other modifications were required to our home. The pumps are housed in an adjacent garage and the fabric of our historic home remains intact. We are completely pleased with every aspect of this switch to a renewable energy source and now look forward to installing solar panels in the near future to generate our electricity too, making our home more sustainable for us and future generations."