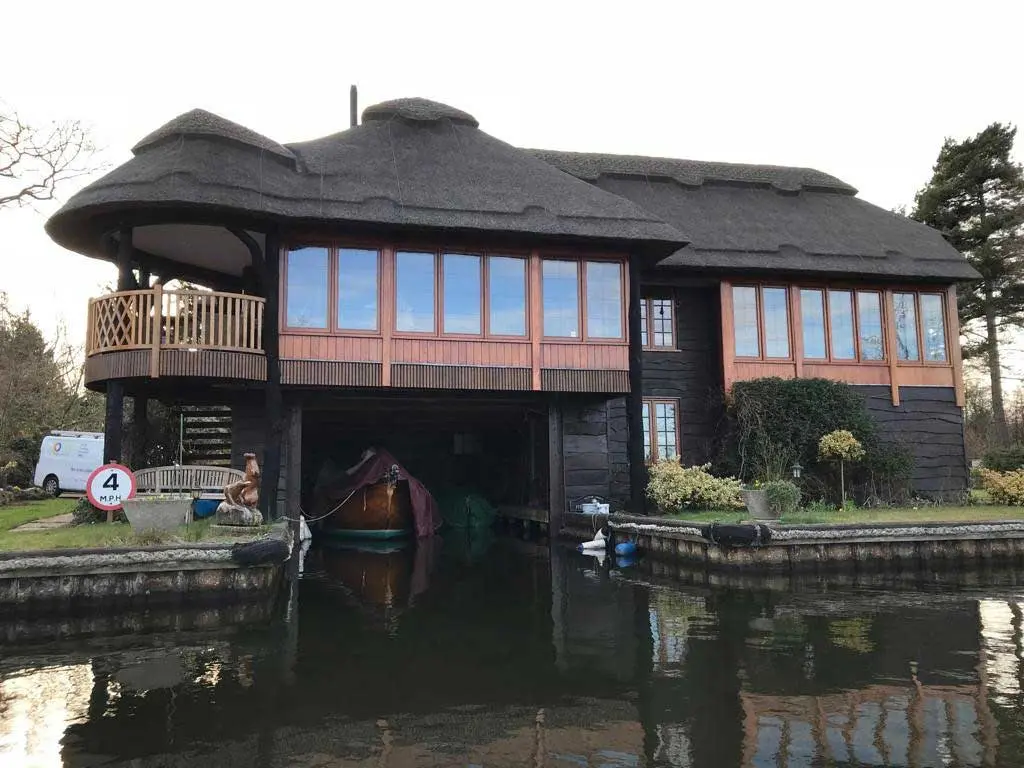 Icehouse, Irstead, Norfolk Broads
A furniture cabinet maker has completed a major structural and interior refurbishment, which has saved a historic property from collapsing into the river on the Norfolk Broads. Mr and Mrs Lodge bought the timber-framed thatched property in this beautiful area of North Norfolk in 2013; at which time the local Parish Council had raised concerns that the iconic house was in danger of being lost to the river. The couple, who lived in the area, had passed the property when sailing on the river for years and, like many people, had been saddened to see it slowly falling into decline.
The restoration of Icehouse, named after an authentic icehouse nearby, which in recent times has been knocked down, was a real labour of love for the Lodges. Part of the renovation work included having an innovative open river source NIBE heat pump system fitted. Andrew Lodge carried out most of the renovation work on Icehouse, based at Irstead, himself; which included underpinning the house, replacing the Larch timber cladding to the exterior and upgrading the insulation to modern thermal performance standards. The property, which has four bedrooms and three bathrooms, was built in the 1930s and is a heritage asset, meaning it is valued because of its contribution to society and culture. It lies on the River Ant at Barton Broad, a place popular with barge holidaymakers and leisure cruisers.
The Solution
A complete transformation of the property was required, which Mr and Mrs Lodge knew would take several years so, as part of the planning conditions, they were given permission to build a cottage close to the Icehouse in which they could live whilst the work was taking place. It is now rented out as a holiday home.
In their newly built cottage, the family had a NIBE ground source fitted by EGE Energy, which meant they felt comfortable and warm all year round.
EGE Energy, which has been a NIBE VIP installer since 2011, recommended an open water source heat pump to provide heating and hot water, as this is the most efficient type of heat pump system. On this project, it will deliver a seasonal performance factor of 4:1 which will mean major energy savings for the Lodges.
As the property is located right next to the river, with a boathouse underneath, it made sense to make use of this. The system extracts water from the river, pumps it across a heat exchanger, extracts usable heat and returns it shortly afterwards to the river, just a couple of degrees cooler. The plant room containing the heat pump was built at river level.
Results
The Icehouse has a NIBE 12kW F1255 system installed. This is designed for larger homes and has the capability to deliver a plentiful supply of heating and hot water.
To extract and circulate the water, collector pipes were laid 600mm below the surface; even though the river is tidal, the level rarely falls 250mm below the normal surface level. A self-cleaning open water pump was installed which provides regular filter cleaning, enabling very low maintenance. Water source heat pumps work by harnessing the stored solar energy from beneath the surface of a river or lake. NIBE's heat pumps can be coupled with various accessories, such as cooling and ventilation, plus the ability to heat a swimming pool. All these accessories can be centrally controlled using one operating system.
EGE Energy retrofitted the underfloor heating system to both the upper and lower levels of the property.
Steve Webster from EGE Energy said: "It is always a good idea to make use of a water source for a heat pump when one is available near a property, because of their efficiency. It is great to see this historic property restored to its former glory and set up for the future with a renewable energy system."
The Icehouse previously had electric storage heaters, which were inefficient and cost around £3,500 per year to run. Mr and Mrs Lodge will make major savings on ongoing running costs, as a result of the heat pump, which is delivering a seasonal performance factor (SPF) of 4:1.
Testimonial
Mr Andrew Lodge explains: "Once we'd lived with a NIBE heat pump in the cottage, we knew we didn't want to be without one again. We were really happy with the performance of the heat pump and how efficient it was to run – it just made sense to look into how we could utilise the same technology at Icehouse."
He continues: "The heat pump has made such a difference to our home. We like the fact that we don't need radiators and also that the system is so quiet and efficient system. We expect that we'll be able to make major savings on our heating bills, not to mention our carbon footprint."
Mr and Mrs Lodge will benefit from the smart home control system NIBE Uplink™. The app means that they can control the heating, cooling, ventilation and hot water in their home – wherever they are. NIBE Uplink™ uses smart technology to optimise energy consumption, reduce costs and create the perfect level of comfort. Their NIBE heat pump system comes with a seven year warranty.
About EGE
EGE Energy Ltd is a Norfolk based family run company, which offers renewable energy and energy saving heating products and services for both domestic and commercial applications. The company has over 40 years' experience in the plumbing and heating industry and has installed over 200 heat pump systems. The company is MCS-accredited and follows its procedures for estimating, quoting, installation practice, warranty cover, documentation and after sales service. For more information visit the website www.egeenergy.com