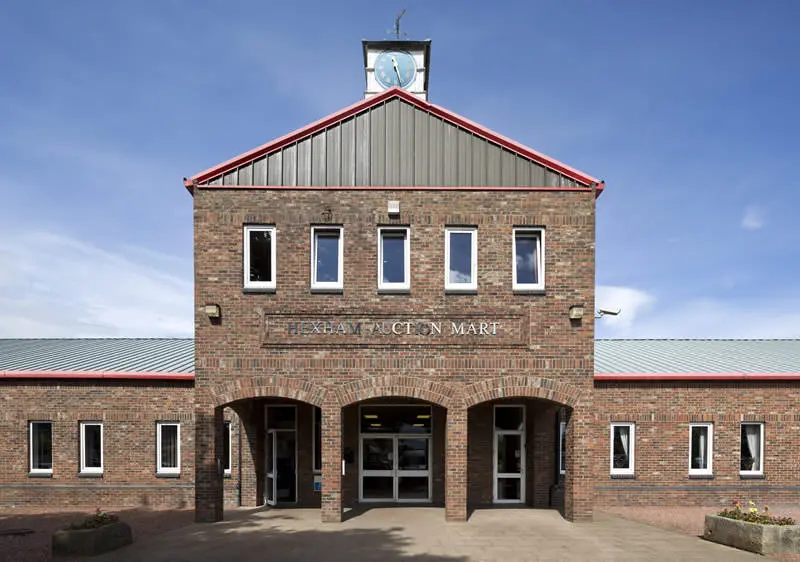 Hexham and Northern Mart
Hexham and Northern Mart is an auction house in Hexham (25 miles west of Newcastle), specialising in the sale of livestock and cattle to farmers across the North East of England. The business decided it was time to replace its old gas-fired heating system with a more sustainable alternative – one that would not only reduce energy consumption and running costs, but also earn additional income through the Renewable Heat Incentive (RHI). Minimising impact on day-to-day operations during the transition was another key consideration. Managing director Robert Addison tasked renewable energy specialist and NIBE VIP Installer Calibrate Energy Engineering with finding the right solution to meet the heating and hot water demands of the 112,050sq ft building.
The Solution
The team at Calibrate specified, designed and installed a 300 kW renewable heating system made up of five 60 kW NIBE F1345 ground source heat pump (GSHP) units. They paired this with a 50 kW solar PV array, fitted to the roof of the main pen area, which partially powers the NIBE GSHP system. The in-ground heat collectors required for the GSHP were laid in the fields around the buildings, with the controls units sited in a prefabricated plant room to the rear of the premises. The installation took just three months from start to finish, and during this time it was business as usual for Hexham and Northern Marts.
Results
Docked together in a cascade for greater output capacity, the five NIBE F1345 GSHP units now meet 95% of Hexham and Northern Marts' 394,000 kW/h annual heating and hot water demand. Meanwhile, the 50 kW solar PV array generates enough free electricity to offset a significant 50% of the power needed to run the GSHP system. Hexham & Northern Marts is set to make a 236% return on investment – reaping an estimated £862,000 in energy savings and commercial RHI payments over the next two decades.
Customer Testimonial
"We couldn't be happier with our new renewable heat and power sources. As well as delivering instant reductions in energy usage and subsequent savings on heating bills, the NIBE GSHP solution is providing us with a steady stream of income for the next two decades, thanks to the RHI. The power produced by the solar PV panels is an added bonus, and makes running the heat pump system even more cost-effective.
"As a result, we're expecting to see returns of more than double our original investment over the next 20 years – which is absolutely invaluable from a business point of view. Not only this, but we've got an efficient, reliable renewables setup that's fit for the future, and will continue to deliver ongoing savings for years to come."
Robert Addison, managing director, Hexham & Northern Marts
Read more on Hexham & Northern Marts