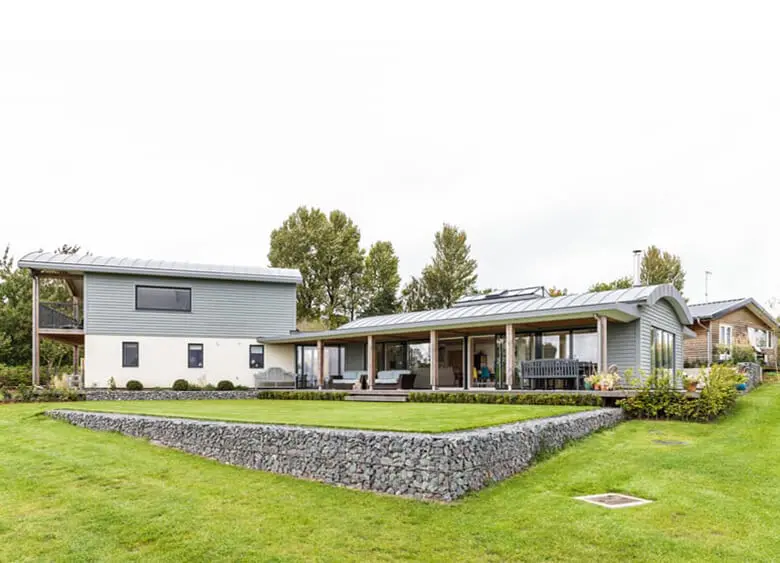 Hemploe View, South Kilworth, Leicestershire
A Leicestershire self-builder is set to reap almost £20,000 in Renewable Heat Incentive (RHI) payments from the government – as well as benefitting from reliable, comfortable heating and hot water for many years to come – following the installation of a super-efficient renewable heating system at his brand new eco home. Hemploe View is located in South Kilworth, Leicestershire, on a site that had previously been home to a bungalow. After purchasing the plot, retired builder Alec Wilson and his wife Stephanie demolished the bungalow to make way for a new two-storey, four-bedroom and three-bathroom home. They wanted to make the new building as sustainable, low-maintenance and cost-effective to run as possible – installing zinc roofing, rainwater harvesting and energy-efficient underfloor heating throughout. When it came to choosing a heat source for the off-grid property, they were keen to avoid oil-based systems, as they can be both costly and polluting.
Instead, the couple opted for an advanced ground source heat pump (GSHP) system from leading renewable heating manufacturer NIBE. The 15kW NIBE F1145 GSHP works by harnessing natural energy stored in the surrounding land and using it to provide a consistent supply of renewable heating and hot water.
The Solution
Alec explains: "Before retiring I was a builder by trade, and had project-managed a few builds of my own in the past too – so I had some prior knowledge about renewable technologies. I had already ruled out using oil as a heat source, not only because of carbon footprints, but because prices are so volatile and ongoing tank maintenance tends to be expensive too. I also had first-hand experience of NIBE heat pumps, which I'd seen performing well in other builds and renovations I'd worked on. I knew that choosing a heat pump was the way forward for our new home, especially as long-term sustainability and low running costs were both really important to us. Heat pumps also work really well with water-based underfloor heating, as both systems run at relatively low temperatures – so it made sense on a number of levels."
Local renewable energy specialist and NIBE VIP Installer Indigo Renewable Energies Ltd. designed and installed the NIBE system, as well as fitting solar thermal collectors to the roof – which work in partnership with the heat pump to heat the property's water supply. The renewable heat and hot water produced by both systems combined qualifies for quarterly rewards of £700 under the government's RHI: meaning the couple expect to receive a total of £19,600 over the scheme's seven-year payments period.
Alec adds: "We chose to work with the Indigo team as I'd been pleased with the job they'd done for me on a previous project – and they certainly didn't disappoint. Ultimately, renewable technologies only deliver the impressive results they're supposed to when they're fitted correctly, and by a professional, so it's important to work with a reputable, qualified installer. That's exactly what we found in Indigo. They took care of the whole process, start-to-finish – from carrying out an initial site survey to designing, installing and commissioning the system. They also continue to be on hand to offer ongoing maintenance support if needed.
"Now that the heat pump system is in, it's running like clockwork and we couldn't be happier. In fact, it does its job so well – and with so little input from us – that sometimes we almost forget it's there! Ongoing running costs are minimal (especially in comparison to other off-grid heating alternatives like oil), and the additional income we're earning through the RHI is certainly an added bonus."
The MCS-accredited NIBE F1145 ground source heat pump fitted at Hemploe View can operate using ground, rock or lake as a heat source, and works particularly well with low-temperature heat emitters, such as underfloor heating. Designed for larger properties with higher heating needs, it comes in an output range of 5kW-17kW and features speed-controlled circulation pumps for optimum efficiency.