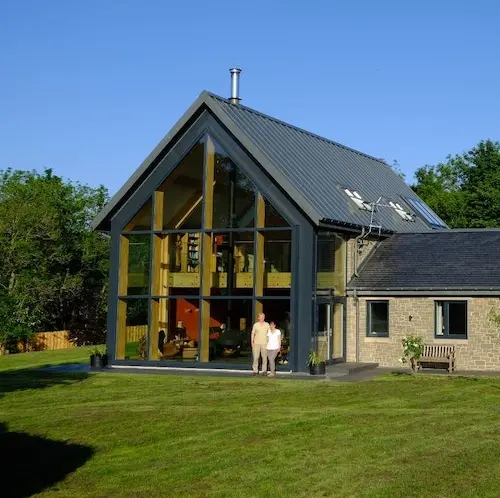 Dollar Hills Near Falkirk, Scotland
A four-bedroom home set amidst the beautiful Dollar hills near Falkirk, Scotland is the realisation of a dream for former veterinary surgeon Christopher Whalley. Christopher and his wife Dianne, who previously lived in Durham, had set their sights on relocating to the stunning location in an 'off-grid' area near where he was born, after they sold their business. To heat their self-build home, the Whalleys chose an energy efficient and sustainable heat pump system from NIBE.
Mr Whalley's vision was for a 400m2 contemporary home built from Glulam, an attractive high performance type of structural timber which is glued and laminated to give added strength. The home was built with a high level of thermal insulation to protect against the harsh winters in this part of Scotland. It has a timber frame construction with the property featuring pre-insulated wall infill panels which were manufactured offsite and craned in to optimise thermal performance. External walls to the property are clad in Scottish stone to enhance aesthetics and complement the local vernacular. Designed to maximise natural daylight, the property features full height glass curtain walling manufactured from laminated triple glazing to ensure energy efficiency.
The Solution
The mechanical/electrical engineer on the project recommended Eco Coil Heating, a specialist renewable energy installer based in Glasgow. The company, which is an approved NIBE VIP installer, designed a system involving a NIBE 24kw F1345 ground source heat pump with a 500 litre hot water cylinder to provide heating and hot water throughout the four bedroom property. Eco Coil Heating also supplied a NIBE Pool 40 as an accessory to heat the Whalley's indoor swimming pool.
The NIBE F1345 is a heat pump that has been specifically designed for larger properties. It enables simultaneous production of heating and hot water and is ideal for use with accessories such as the NIBE Pool 40, for heating a swimming pool.
The ground source heat pump sourced its energy through three vertical bore holes, which Eco Coil Heating drilled at depths of 180m in land close to his property. Bore holes were chosen for this project as they offer long term performance and horizontal ground loops would have impacted on the mature gardens surrounding the property.
Eco Coil Heating offered a complete design, installation and commissioning service for the heat pump, which feeds the hot water system, the swimming pool, plus the underfloor heating to upstairs and downstairs of the four bedroom home. Due to the energy efficient running of the heat pump, the indoor pool, which is 6.5m x 3m in size, can be kept at a constant temperature of 300C.
To make it even more sustainable, the house has 30 solar panels integrated into its roof, which also offsets the running costs of the heat pump.
Ground source heat pumps work by harnessing the stored solar energy from deep within the ground, the bottom of a lake or at just below the surface of a lawn. NIBE's ground source heat pumps can be coupled with various accessories, such as comfort cooling and ventilation. All these accessories can be controlled via the heat pump app NIBE Uplink which means only having to use one operating system. All NIBE heat pump systems come with a seven year warranty when installed by a NIBE VIP installer, like Eco Coil Heating.
Results
"We've lived here over a year now and the heating bills during the winter are around £200 per month, which when you take into account the fact that it's a large property with permanent heating for an indoor pool, then it works out really well," said Mr Whalley.
He adds: "It is reassuring to know that we have a heating system that is sustainable but affordable for the future too."
Mr and Mrs Whalley will also benefit from RHI payments for his heat pump.
Mr Whalley took responsibility for project managing the whole build, which took almost 12 months to complete. He has now moved onto renovating and extending an old cottage nearby for which he has already specified NIBE air source heat pumps.
He continues: "We knew that good installation is key to the effective long-term performance of a heat pump and Eco Coil Heating came highly recommended for their work on major commercial and domestic projects."
Stephen Craig from Eco Coil Heating said: "A large domestic project like this requires a close working relationship between the client, ourselves and the builder. We were pleased with how smoothly it ran and the fact that Mr Whalley wants us to fit a NIBE heat pump in his next project is testament to the work we've done."
Testimonial
Christopher Whalley said: "As we are in an off-grid area, we wanted to futureproof our home and its requirements with a sustainable source of energy. We carried out in-depth research and found that ground source heat pumps from NIBE provided a high level of seasonal performance. We were also aware that heat pumps would offer a more cost-effective means of heating the pool. Overall we have a very efficient and sustainable energy system throughout the house that meets our needs perfectly."
About Eco Coil Heating
Eco Coil Heating is a NIBE VIP installer that supplies the latest generation of eco-friendly, energy saving systems including heat pumps, heat recovery systems, solar panels, under-floor heating and water management systems. The company operates throughout Scotland, providing integrated energy systems that lower the carbon footprint of domestic properties.