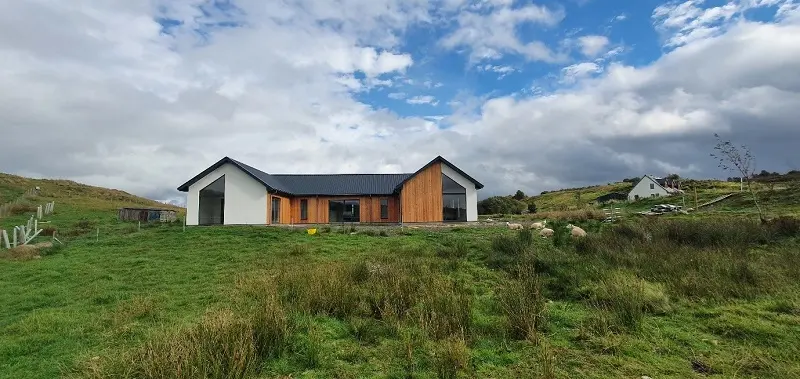 Croft 15, Scotland
On a 3-acre croft in the rural village of Connel stands a picturesque new home built by Barry Ferguson, Director of Ferguson Energy. Having worked in renewable heating for well over a decade, Barry didn't just know what he wanted to achieve when he started building his dream home – he knew how to make it happen. Motivated by the carbon reductions that can be achieved through the use of low carbon, sustainable products, he set out on a mission to build an environmentally friendly home that benefits from a perfect indoor climate without harming the planet.
The Solution
Well aware of the benefits of NIBE heat pumps having installed them in other homes, Barry opted for a 12kw NIBE S1155 Ground Source Heat Pump (GSHP), which was installed alongside a NIBE Mega Coil 300L Hot Water Store, a Nibe RMU S40 Interface, and a Nibe ERS 20-250 mechanical ventilation system (MVHR). Truly harnessing the power of nature that surrounds his new doorstep, Barry's GSHP extracts the necessary energy from the freshwater river that runs adjacent to the property to provide a comfortable indoor climate along with all his hot water needs. The open-loop system means that the water is returned to the river after it has been used by the heat pump, making for a reliable, sustainable solution all year round. Further boosting the property's environmental credentials, the home also benefits from underfloor heating, 16.4 KW Battery Storage and a 14 KW Solar PV array – making use of the large amount of southern facing windows on the property and the sunlight it receives throughout the day. Linking in with a smart energy tariff, the battery pack is charged overnight to make use of off-peak electricity from the national grid. To top it all off, a smart solar-compatible electric vehicle charger has also been installed.
Results
The use of a NIBE Ground Source Heat Pump, installed over the course of just eight days, has helped Barry to build the home of his dreams. Complete with vaulted living and bedroom spaces and four resident pet sheep, the property's Energy Performance Certificate (EPC) boasts an A rating for both energy efficiency and environmental impact.
The total annual grid energy demand is estimated to be 4,000 KWH or £880, including energy for space heating and hot water but also for lighting, cooking and all appliances.
The total heat demand for the 4-bedroom property is 9363 kWh per annum and the System Seasonal Efficiency (SPF) is 4.71.
Testimonial
Barry Ferguson who completed the build in February 2022, said: "The best thing about having a NIBE heat pump is that the user-based interface is far in advance of anything else in the marketplace, coupled with excellent performance and reliability, smart features such as adaptive weather forecasting and the added protection of the fantastic 7-year partner installer warranty."